What we know about AMD's Ryzen so far
AMD's much-hyped Zen CPU now has an official name—here's everything else you need to know about it.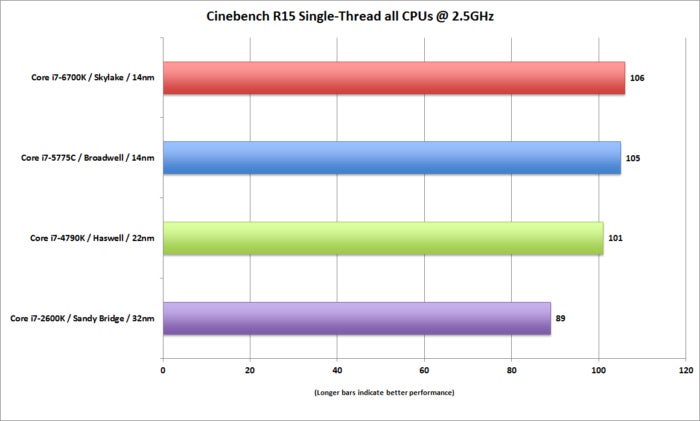 Intel's 6th-gen, 5th-gen, 4th-gen, and 3rd-gen CPUs compared.
Ryzen vs. Skylake vs. Kaby Lake
Okay, so Ryzen looks good, but it's being matched against Intel's 5th-gen Broadwell core. What about Intel's 6th-gen Skylake and the soon-to-arrive 7th-gen Kaby Lake desktop chip?
In pure efficiency, Skylake should have a small advantage over Ryzen. Kaby Lake, which is mostly a clock bump from what we've seen in laptops, builds on that lead.
The problem, for Intel, is that the efficiency advantage isn't that substantial at equal clock speeds. As I noted in my review of Skylake, when I set four generations of Intel chips to the same clock speed and disabled any boost advantage, the differences were pretty incremental (see above chart).
Of course, these parts don't all run at the same speed. Skylake has a base clock speed of 4GHz. Kaby Lake, which is mostly a refined Skylake core, should have a little more speed still.
The first problem for Skylake (and probably Kaby Lake) is the ability of the 8-core chips to also run at pretty high speeds on light loads.
My review of the 10-core Broadwell-E shows how that chip's Turbo Max feature can mostly nullify any clock-speed advantage the Core i7-6700K chip has in light loads. If AMD can do the same with its boost modes, the base-clock differences between Ryzen and Skylake could be too minimal to matter.
The second problem with Skylake and Kaby Lake is that both are only quad-core parts with no ability to add more cores.
This isn't the last word on performance, but the general upshot—if you accept AMD's demonstrations at face value—is that Ryzen looks poised to put the company back into the ballpark for the first time in a long, long time.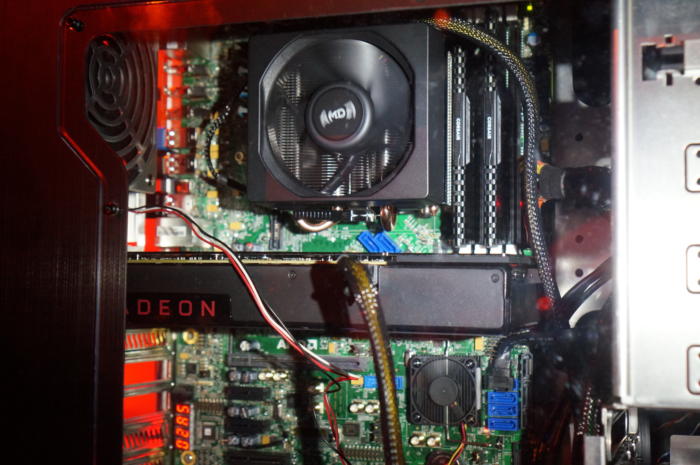 Gordon Mah Ung
This AMD reference board for Ryzen from the unveil in the fall had four DIMM slots and that's because Ryzen is a dual-channel-memory CPU.
It's dual-channel
One thing we haven't been sure about up until now is whether Ryzen would be a quad-channel-memory CPU like its Intel counterpart. Today, I can say for certain that it's a dual-channel configuration.
That's because the demo we witnessed was equipped with a pair of 8GB DDR4 DIMMs, versus the Intel box with four 8GB DDR4 DIMMs. AMD's recently announced Bristol Ridge chips are also dual-channel and use the same AM4 socket, and compatibility with Zen cores has been touted as a feature.
Afraid that'll hobble Ryzen's performance? My own testing last year shows the impact to be mostly minimal.