WD preparing to ship flash chips with half a terabit of capacity
The new chips increase density by 33%
In 2014, Samsung began shipping its 32-layer "V-NAND" (vertical NAND) SSDs and last year released a 48-layer product. The company even announced it was working on a 15TB prototype desktop SSD.
Intel and its SSD partner Micron have also announced 48-layer 3D NAND. The two companies are preparing to launch a resistive RAM (ReRAM) product called 3D Xpoint (which will be sold under the name "Optane") later this year. That non-volatile memory will be up to 1,000 times faster than NAND flash and have 1,000 times the endurance -- but it's expected to be more expensive. Initially, 3D XPoint memory will store 128Gbits per die across two stacked memory layers.
3D XPoint technology is a new class of memory from Intel and Micron that relies on resistance change of the bulk material to achieve non-volatility. 3D XPoint technology uses the bulk material to switch resistance state and does not rely on statistically variable filaments. The combination of architecture and unique materials in both the memory cell and selector enable 3D XPoint to achieve higher density and better performance and endurance.
From the first iteration, 3D NAND flash technology offered from two to 10 times higher reliability and twice the write performance of planar NAND.
Most importantly, however, 3D NAND removed the lithography barrier planar (single-level NAND flash) faced as manufacturers shrunk transistors below 15 nanometers in size. The smaller lithography process led to data errors as bits (electrons) leaked between thin-walled cells.
"The big deal is you're not building these [3D NAND] skyscrapers one floor at a time. We know how to go from 24 layers to 36 layers to 48 layers to 64 layers and so on," Sivaram said in an interview with Computerworld earlier this year. "There are no physics limitations to this. What we now have in 3D NAND is a predictable scaling for three and four generations -- something we never had before."
Sivaram said he is already planning for 3D NAND chips with more than 100 layers.
"We don't see a natural limit to how high we can go. If I went around and asked how high can we go, [NAND manufacturers] won't tell me we can take it to 96 or 126 layers, and there's a physical limit there," Sivaram said. "This has been our dream for a long time."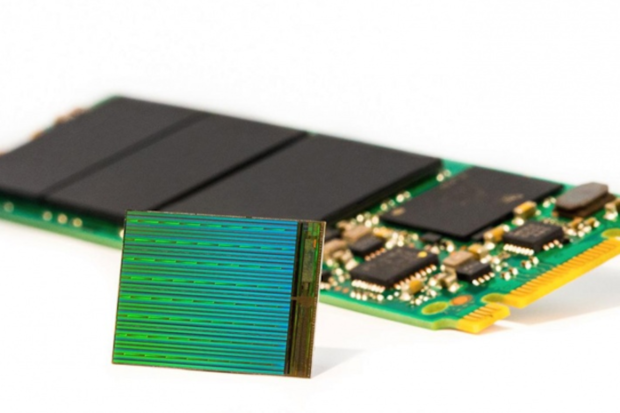 Earlier this year, Intel and Micron began shipping 3D NAND flash drives with up to 3.5TB of capacity in an M.2 expansion card.