Velocity Micro Raptor Z40 review: It's a lean, clean small-profile gaming machine
Not every gaming machine has to have more flashing lights than Las Vegas or be taller than an 8-year-old.
Having recently reviewed Samsung's new 950 Pro M.2 NVMe SSD, I'd also rather have seen a 256GB version of that product in the Z170I's M.2 port than the RAID setup. It's a little more expensive, and you only get half the capacity, but you're talking twice the sustained read speed, and faster everything else.
Well, at least that was the way I was thinking before Velocity Micro informed me that it was named in a Samsung had brought against Nvidia, simply because it bundles Nvidia graphics boards—as every other PC vendor in the world does. So maybe a Kingston HyperZ Predator M.2 drive then.
Regardless, the M.2 slot is there as an upgrade path, and Velocity will honor any request to configure the Raptor Z40 with an M.2 SSD, even though there's no option for one on the Z40 configuration page.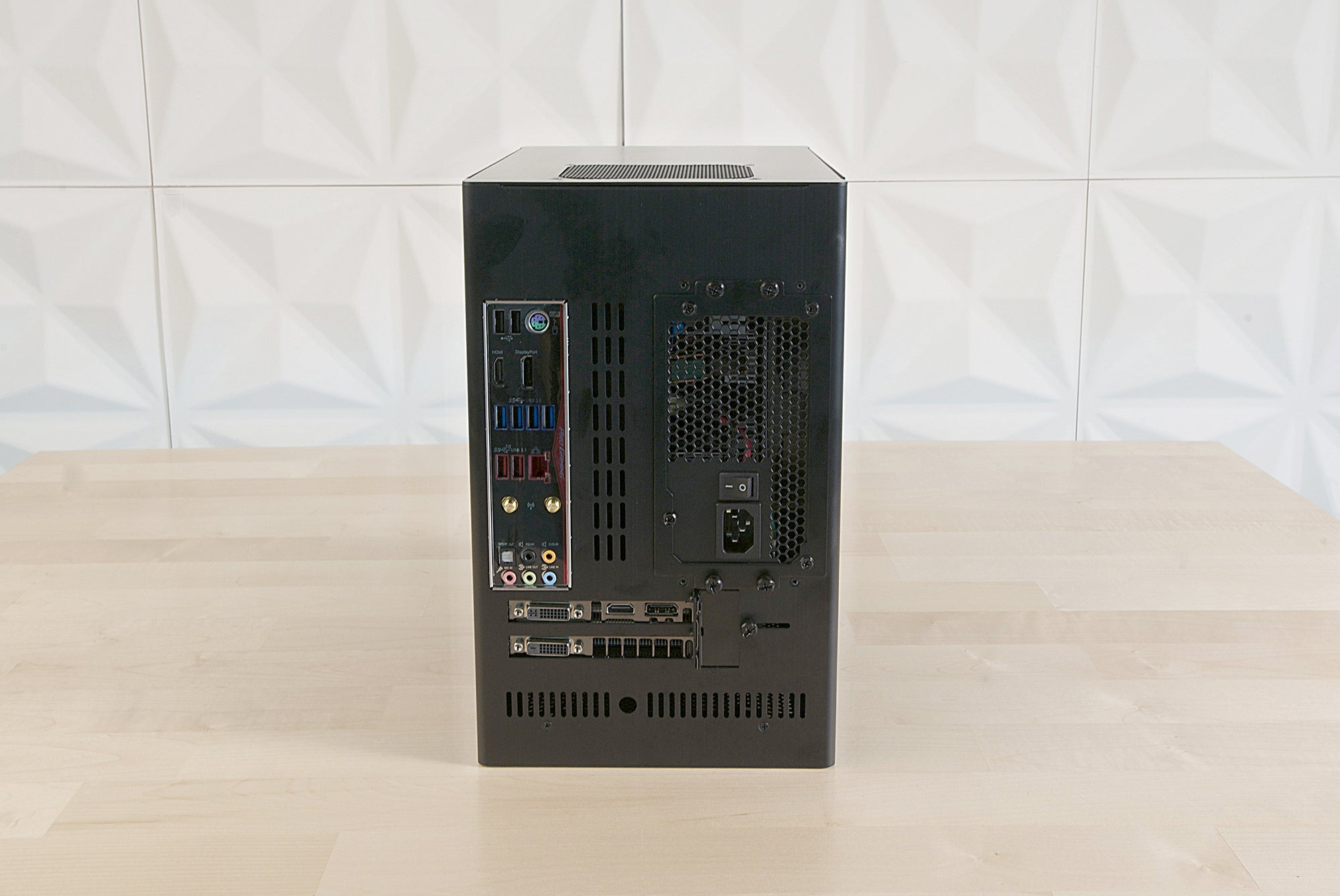 Credit: Monica Lee
Ports
On the back of the Z170I are eight USB ports: two type 3.1 courtesy of ASMedia, four type 3.0 from the Intel chipset, plus two type 2.0. There are two more USB 2.0 types available via a motherboard header (the USB 3.0 motherboard header provides the aforementioned faceplate ports). The Z40 also has full-size DisplayPort 1.2 and HDMI 1.4 ports, a single gigabit ethernet port, dual Wi-Fi antenna jacks, and the usual 7.1 analog and optical surround audio outputs.
That's a well-rounded selection, but what truly made my day was the PS/2 port on the back. As the proud owner of three IBM Selectric-style model M keyboards from the 80s, this was a cherry on top.
The GTX 970 in this Raptor Z40 had two DVI ports, DisplayPort 1.2, and one HDMI 2.0 port. This particular combination of ports wasn't capable of driving the Dell 2715K display I used for testing at its full native resolution (5120x2880), but it'll handle 4096x2160 at 60Hz or 4K Ultra HD (3840x2160) just fine.
This configuration of the Z40 also offers no HDCP 2.2 support—not through the integrated Intel HD 530 graphics, nor the GTX 970. In the future, you may have issues with copy-protected UHD or 4K content if you order a system with the GTX 970. The GTX 960 and 950 do support HDCP 2.2, so if UHD media is more your thing than 2500x1600 gaming, you could back off a notch on your chosen video card and save a couple of bucks.
Performance
Our Raptor Z40 racked up a fairly impressive system performance, scoring 3,694 in PCMark 8's Work Conventional benchmark and taking about 46 minutes to convert a 30GB 1080p MKV file to a 720p tablet-friendly MP4. That's a decent step up in performance from our reference system with its Core i7-4770K.