Toshiba OCZ's TL100 review: A budget SSD that's not a bargain
This drive takes the shortcomings of TLC NAND to a whole new level.
Note that our real-world copy tests utilize compressed files that negate the minimal performance advantages offered by SSD controllers that compress data. That's the beauty of AS SSD as well. This was a choice made several years ago to eliminate fantastical test results generated using highly compress-able files that didn't remotely mirror users' actual experiences. Highly compress-able files such as text or raw images comprise a very small percentage of most users' data.
As you can see below, the TL100 is an okay reader. As mentioned, you will definitely notice a boost in performance if this SSD replaces your hard drive, just not as much as you would with similarly priced SSDs that read 15 percent faster and write 400 percent faster.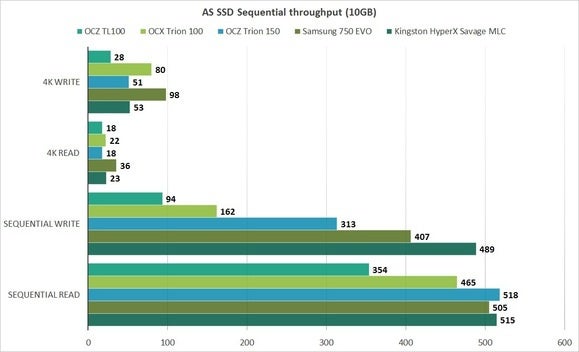 So far, Samsung's 750 EVO is the only TLC NAND drive that's gotten it right. Longer bars are better.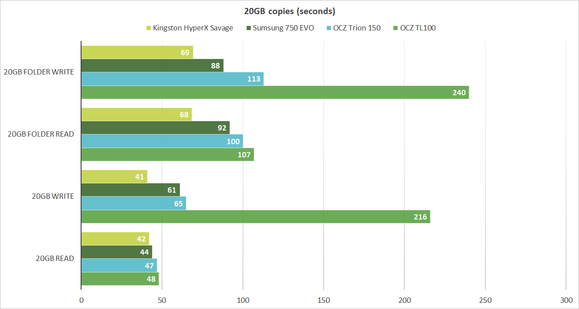 When it comes to writing large amounts of data, the TL100 is actually slower than some hard drives. Shorter bars are better.
This next chart was a real puzzler. We've never seen an SSD write access-time even remotely as slow as the TL100's. This may have been an interaction between the TL100 and AS SSD. The drive handled operating system duties, which stress random access, just fine. We were still investigating at the time of this article.
TLC NAND
It would be nice if TLC always stood for tender loving care, and not triple-level cell (3-bit) NAND. At least when it comes to writing data. It's inherently slower than MLC (multi-level cell/2-bit) and SLC (single-level cell/1-bit) at writing, but the TL100 is uniquely slothful. Samsung manages to wring a very respectable 400MBps out of its TLC on the 750 EVO, and Toshiba manages 240MBps with its Trion 150. The TL100's 94MBps? Wow. And that's not a good wow.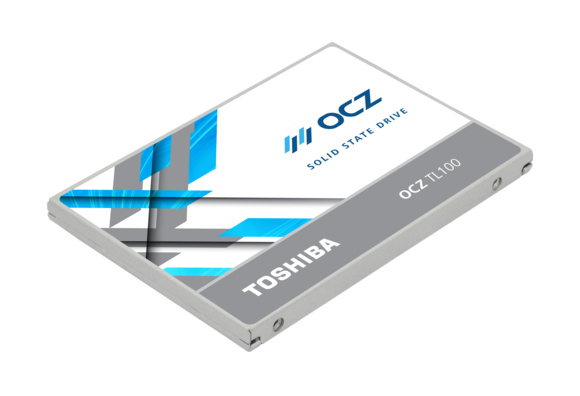 It's hard to believe Toshiba could put out an SSD this slow. But here it is.
Note that this is not a diatribe against TLC per se. Not in the least. If the performance shortcomings and cost savings are appropriately balanced, TLC can be a great thing. But so far, only Samsung's 750 EVO has delivered sustained write performance commensurate with price, when compared with MLC NAND SSDs.
Also, this is not about whether you'll get a boost in performance when you replace your hard drive with an SSD. Again, any SSD, even a slow one such as the TL100 will do that. This is about how much of a boost you get, and for how much.