Thousands of users tapped for first 3D printer buyer's guide
More than 2,000 3D printer owners offered their opinions on 90 machines.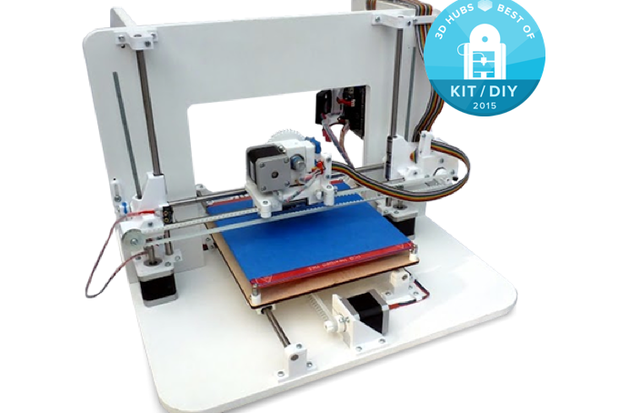 Under the KIT/DIY category, one of the more highly rated 3D printers was this Meldel90 which has a price tag of $1,100.
Credit: 3D Hubs
The world's largest online community of 3D printer owners has rated what looks to be the majority of machines for sale today, offering consumers a detailed buyer's guide that uses a simple "1-10" rating system.
Some 2,279 "verified" user reviews were collected for the buyer's guide, as some owners had more than one 3D printer model. In all, the guide rated 76 machines, with "10" the highest ranking and "1" the lowest.
"What I think was interesting is some of the bigger players in the industry were not represented, like Makerbot or 3D Systems, which seems to be the sentiment in the market today," said Brian Garret, chief technology officer at 3D Hubs, which created the online buyer's guide. Garret said users were often unimpressed with the print quality that came from larger vendors.
3D Hubs is a 2013 startup that created an online distributed network as a marketplace for printing 3D objects. The network quickly grew to include 10,000 3D printer owners throughout the world. The distributed network allows consumers or businesses to upload CAD files and have a local 3D printer owner create the part. The 3D printed object can then be picked up locally or shipped for a fee. 3D printer owners charge a standard fee for their materials and labor.
The printers that were reviewed are arranged in five different categories: Enthusiast Printers, Plug-n-Play Printers, Kit/DIY Printers, Budget Printers and Resin Printers.
The desktop printers in the guide use two technologies. One was extrusion deposition or fused deposition modeling (FDM) technology, where layer upon layer of stringy filament is melted and pushed through a nozzle layer upon layer. The second was resin printing, also known as photopolymerization and stereolithography (STL), which uses a light source, such as a laser, to harden layer upon layer of photosensitive resin.
In all, 18 models made it to the top of the user communities' list, and only printers with more than 10 reviews were included in the buyer's guide.
3D Hubs also added a secondary "Printer Index" that includes 58 3D Printers that didn't make it to the top of their categories. Printers with more than five reviews are displayed in the index.
3D Hubs, based in Amsterdam, was founded by Garret and CEO Bram de Zwart. Both said they are former employees of 3D Systems, the first company to make 3D printers.
After creating an online printer user community, one repetitive question the founders received from those on the network was, "which printer should I buy?"