The so-called Universal Stylus Initiative launches without the three biggest players
Samsung? Microsoft? Apple? These companies have yet to sign on.
"Dell welcomes the USI v1.0 specification because it enables a great active stylus experience across a variety of touch-enabled devices," said Liam Quinn, Dell's Client Solutions chief technical officer, in a statement. "Enabling interoperability among multiple manufacturers also will help drive broad customer adoption of the active stylus."
The omissions of Apple, Microsoft, and Samsung are noteworthy, though. Apple's absence would imply that there won't be third-party generic replacements for the Apple Pencil, protecting Apple's $99 Apple Pencil price and profit margins. (Granted, Apple claims that the Pencil was specifically designed for use with the iPad, with features such as shading, which is applied when the Pencil user tilts her hand.)
Another is Microsoft, which has a stake in the game as the maker of Surface tablets as well as the author of the software drivers that allow active pens to interact with Windows devices. It's also not clear whether Samsung considers its own Note pens to be a proprietary solution. Right now, it's not clear whether a USI pen could work without specific driver support from the device manufacturer.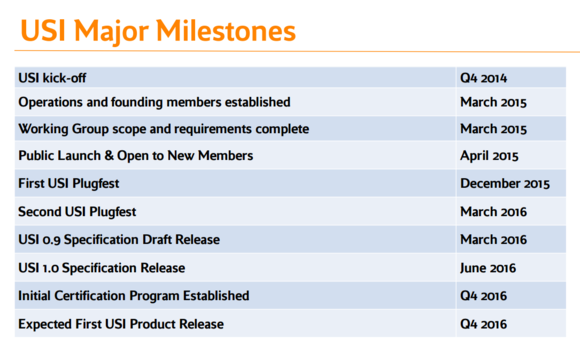 A list of proposed milestones for the USI stylus spec.
There's still plenty of time for them to join up, though. According to a May roadmap, the first USI-compliant products will ship this fall—probably in-display components which support the new standard. A USI spokesman, meanwhile, says that USI styluses should ship by 2018, or possibly late 2017. In any event, your safest bet right now is to take a cue from the HP Elite x2 and ensure your digital stylus doesn't get lost—tie it down.