Tested: The payoff in buying Nvidia's $40 SLI HB Bridge
Nvidia says you need it to get optimum performance from dual GeForce GTX 1080 GPUs. We want to know what the benchmarks say.
"Measuring frame time data you would see how the extra bandwidth smooths out delivery of the frames for a more consistent game experience," an Nvidia official said.
While I didn't have time to use Nvidia's Frame Capture Analysis Tool for this story, I will say that in my personal experience of watching repeatable benchmarks, I observed more artifacts with the soft bridges than the HB Bridge.
I also saw the HB Bridge pay off pretty big measurable returns in some games.
Tom Clancy's Rainbow Six Siege
Moving on to Tom Clancy's Rainbow Six Siege, we can see a roughly 15 percent gap open up between the soft bridges and the $40 HB Bridge.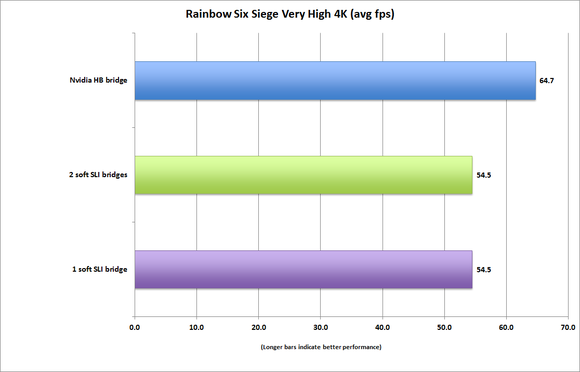 Rainbow Six Siege shows a nice return on investment for that $40.
Tom Clancy's The Division
Our biggest return on investment comes from Tom Clancy's The Division where we see a massive gulf of roughly 25 percent open up between the free bridges and the HB Bridge. As with the other games here, I ran The Division on the Ultra setting at 4K resolution.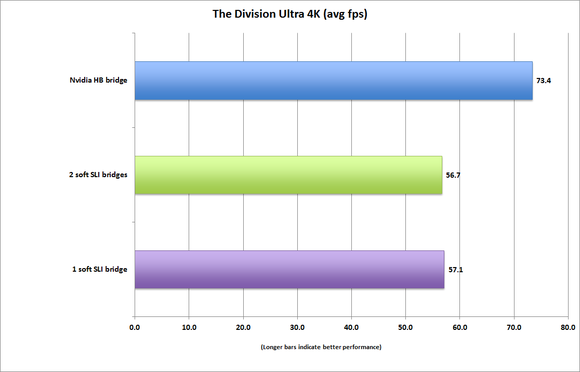 Tom Clancy's The Division makes that fancy $40 HB Bridge seem worth it.
I was curious about the delta if I ran The Division at 5K resolution, or 5120x2880. That's about 14.7 million pixels vs. a typical 4K UHD panel's 8.2 million pixels. With the massive increase in output, you can see that higher-bandwidth bridge really paying off.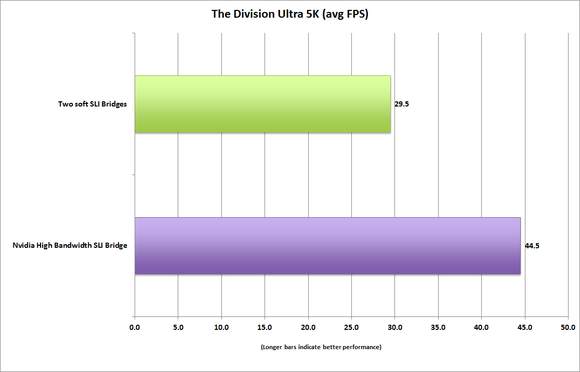 Crank the resolution up to 5K and the gap grows even larger with the HB Bridge.
Maximum frame rates too
The final proof that Nvidia isn't just bilking us is evident in the maximum frame rate. With Middle-earth: Shadows of Mordor running at 5K, the average frame rate is pretty, well, average, with the HB Bridge: 79.6fps vs. the soft bridges' 74.9fps. When you look at the maximum frame rate in the game, however, the HB Bridge has a clear performance advantage. So yes, that HB Bridge is doing something positive.
Maximum frame rate in Middle-earth.
Conclusion
The final answer may seem a little muddled but it's pretty crystal clear to me. First, Nvidia says you really don't need the HB Bridge if you're playing games at 1920x1080 or 2560x1440—you can stick with your old soft bridges.
But why bother? If you're using a pair of GeForce GTX 1080 cards to play at such a low resolution, you're doing it wrong. That's just too much GPU for the job.
Previous Page 1 2 3 4 Next Page