Tested: The payoff in buying Nvidia's $40 SLI HB Bridge
Nvidia says you need it to get optimum performance from dual GeForce GTX 1080 GPUs. We want to know what the benchmarks say.
While conventional wisdom used to be that a single bridge was sufficient for a two-card setup, there's been a growing belief that two bridges are "better." In fact, one PC OEM told me he's heard anecdotal reports of two soft bridges working nearly as well as the HB Bridge. While I would have liked to have tested a previous-gen Pro bridge as well, I did not have one on hand for this comparison.
3DMark FireStrike Ultra performance
For the first test, I turned to 3DMark Extreme Ultra, which runs at 4K UHD resolution. What I focus on here is the graphics portion of the test. The results indeed show that the HB Bridge yields higher performance but it's pretty insignificant. You'd likely get more value buying a $40 mouse pad.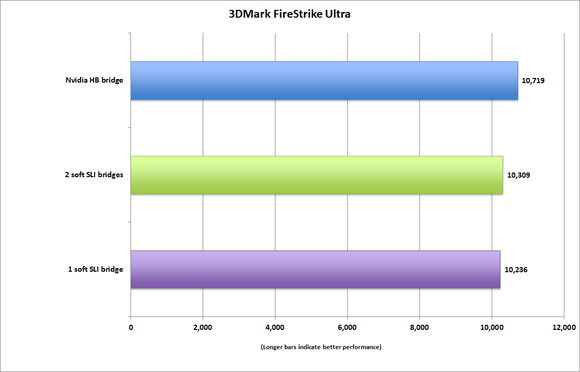 The results form 3DMark FireStrike Ultra make the old soft bridges look pretty good.
Far Cry Primal Performance
Of course, 3DMark is just a synthetic test. Next I turned to a real game, Far Cry Primal set to Ultra and at 4K res. Same underwhelming results. And no, this isn't some SLI scaling issue, as going from one GeForce GTX 1080 to two yielded a considerable performance increase. It just seems like that fancy bridge doesn't matter much.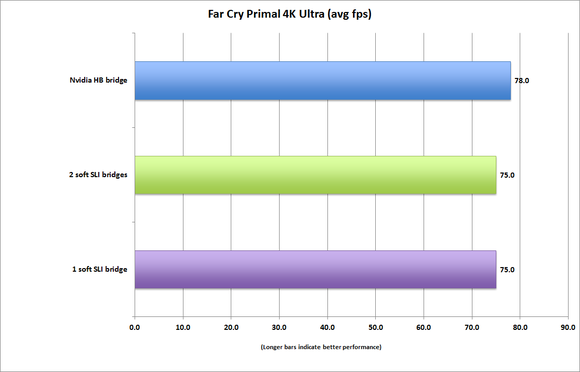 Far Cry Primal at 4K UHD on Ultra settings doesn't care about that fancy bridge either.
Middle-earth: Shadow of Mordor performance
We finally start to see the HB Bridge make a difference in Middle-earth: Shadow of Mordor. I ran the game at 4K resolution with the 4K texture pack installed. Still, that roughly 10 percent difference isn't going to set the world on fire.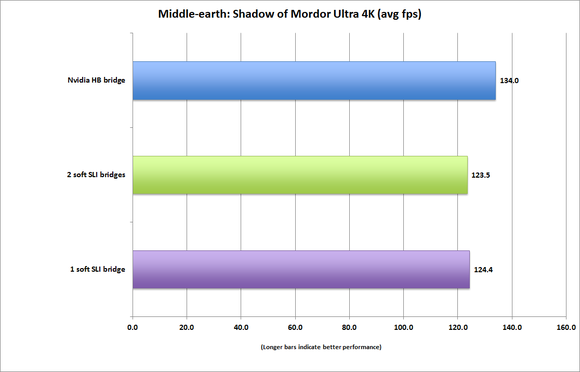 Middle-earth shows a minor delta between the fancy bridge and freebies.
Whoa now, let's not jump to conclusions
Before your eyes glaze over and you decide you don't need to see any more—that the internet conspiracy theory is true: "Nvidia's just ripping us off; the free bridges work just fine!"—there's more to be said.
Nvidia claims that its fancy bridge is actually paying off in ways that your eyes can see but benchmarks won't record.
That's because benchmarks often report the frame rate but don't tell you about the frame "quality." That's especially critical in multi-GPU configurations, where the timing involved in delivering both cards' output to the screen can result in visual artifacting called "micro-stuttering."
Previous Page 1 2 3 4 Next Page