Tested: The payoff in buying Nvidia's $40 SLI HB Bridge
Nvidia says you need it to get optimum performance from dual GeForce GTX 1080 GPUs. We want to know what the benchmarks say.
You've got to pay to play, and that's especially true if you want to play PC games with Nvidia's most powerful graphics option: two GeForce GTX 1080 cards in SLI. Not only will the cards themselves cost you royally ($599 each at a minimum), but you'll also have to throw down $40 for a new, special SLI HB Bridge, so says Nvidia.
The HB Bridge is required, Nvidia claims, because the GeForce GTX 1080 cards pass so much data under heavy loads that older bridges just can't keep up (the HB stands for "high bandwidth," mind you). The company says the HB Bridge will transfer data at 650MHz on GeForce GTX 1080 cards compared to the 400MHz that older GeForce cards achieve with soft bridges, such as those that come bundled with a motherboard or GPU.
The older soft bridges will still work, but only up to a point. You can also use the aftermarket fancy SLI bridges that sold with the last gen of cards, but even those won't achieve maximum potential, according to Nvidia.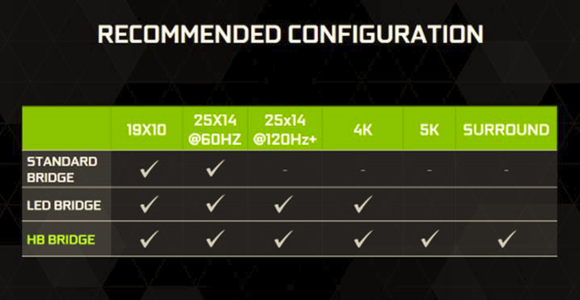 As if plunking down more money for a new SLI bridge weren't bad enough, getting the HB Bridge seems to be a difficult task. They've been sold out on Nvidia's site, and even PC OEMs say they're hard to come by.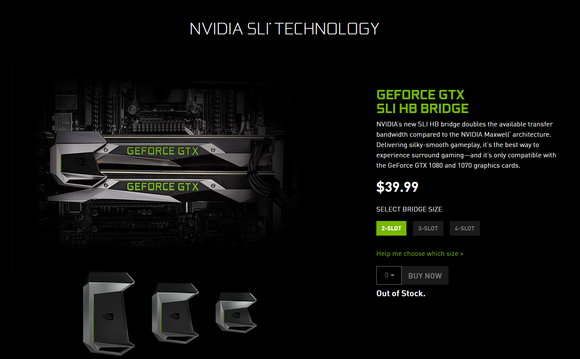 Good luck getting the SLI HB Bridge. They were sold out whenever we checked over the past couple weeks.
We were fortunate enough to have Digital Storm's tricked-out Aventum 3 PC in house, which features two liquid-cooled GTX 1080 cards in SLI, using the SLI HB Bridge, naturally. Like the previous "Pro" bridges, the HB Bridge consists of a hard PCB that uses both connectors on the GPUs.
A view of the back of the HB Bridge, and a closer look at the connectors below.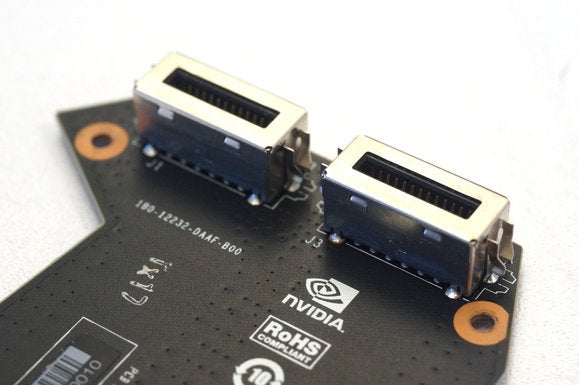 Gordon Mah UngA closer look at the connectors.
Normally, the HB Bridge comes with a fancy black-and-silver cover, but Digital Storm removed that in the Aventum 3 to accommodate the water block.
The front of the HB Bridge with its cover removed. The small connector in the PCB connects to an LED.
Putting it to the Test
But who cares how it looks, right? You want to know if Nvidia is selling you snake oil. To test the necessity of using the new HB Bridge over a standard flexible SLI bridge solution, I ran a series of benchmarks on the Aventum 3 with three different scenarios: the HB Bridge, a single flexible SLI bridge, and two flexible SLI bridges in tandem.