Tested: Nvidia's new Titan X is absolutely decadent in SLI
We test not just one new Pascal Titan X, we test two!
The Falcon Northwest FragBox 2 packs not one new Titan X, but two in SLI along with a 10-core Core i7 and 4TB SSD.
Mind you, this is all in a PC smaller than a toaster oven. A full review of this decadent machine will be forthcoming. Today, given our short few hours with the FragBox 2 and its pair of Titan X cards, we wanted to dig into just what more than 7,000 CUDA cores can to in the arena that matters to most of us: PC gaming.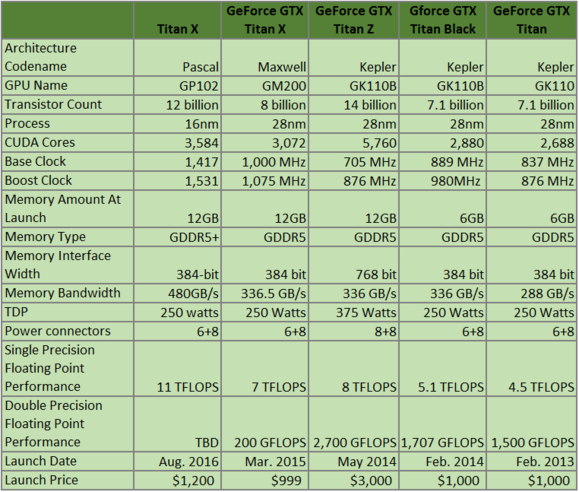 Remember the Titans: Nvidia's Titan-series of cards have always been over the top exercises in excess. This one's no different.
How we tested
We tested the Titan X the only way we could: Inside of the FragBox 2 as they were provided. But you don't put a Honda Accord on the drag strip with a Lamborghini. Instead, we reached back to our review of the Digital Storm Aventum 3 for a proper competitor to the FragBox 2 and its Titan X cards.
The giant Aventum 3 is itself an exotic PC with its full liquid-cooled system, packing a pair of overclocked GeForce GTX 1080 cards. This won't be easy for the FragBox 2.
3DMark Fire Strike Ultra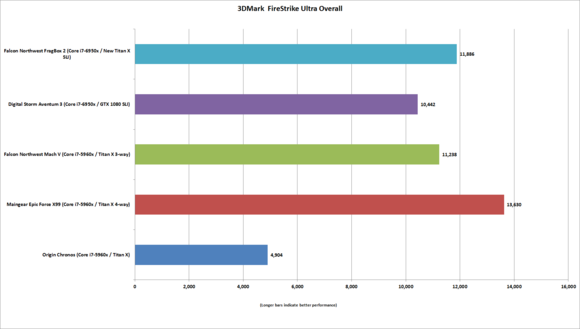 Pure decadence: Here's what happens when you put almost $50,000 in PCs up against each other.
We'll start with Futuremark's 3DMark Fire Strike Ultra run at 4K resolution. It's a synthetic test, but fairly well respected and it generally scales well with multi-GPU builds. For additional comparison in this test, I reached back into our library of scores from other over-the-top machines, including a Falcon Northwest Mach V tower with three original Titan X cards and a Maingear Epic Force X99 rig with four older Titan X cards. I also threw in the score from an Origin PC Chronos micro-tower machine with a single older overclocked Titan X for context.
First, let's acknowledge that's just under $50,000 in computers you're seeing bumping heads. Got you're head wrapped around that? Okay.
The new Titan X cards show their power in this test. They motor by the pair of overclocked, liquid-cooled GTX 1080 cards, and more impressively, they also shoot ahead of the three older Titan X cards in the Mach V system.
Only the Epic Force X99 with its four liquid-cooled older Titan X cards manages to outpunch the FragBox 2.
Rise of Tomb Raider Performance
Previous Page 1 2 3 4 Next Page