Tested: How many CPU cores you really need for DirectX 12 gaming
We benchmark an eight-core CPU in three DirectX 12 tests, and the results may disappoint you.
Gears of War Ultimate Edition Performance
Ashes of the Singularity is probably a best-case scenario for DirectX 12. It's been in development for a long time, with much thought put into supporting all the goodness of the CPU cores in today's PCs.
But not all games are going to be Ashes of the Singularity, even if they carry the DirectX 12 label. In fact, the first major DirectX 12 game is Microsoft's new Gears of War Ultimate Edition. The game and how you buy it is currently mired in somewhat of a controversy, plus there are the big, ugly bugs. Still, as the first DirectX 12 game, I thought it would be worth spooling up on the same hardware.
My testing had its snags. The game clearly has issues on AMD hardware today. Even when you set it to uncap frame rates, the game still tops out at the monitor's refresh rate. To get around that, I swapped in a G-Sync panel with a 144Hz refresh rate. Yeah, I know it's weird that I used a Radeon with a G-sync panel, but the max refresh rate shouldn't change it, and by going from the 60Hz panel to 144Hz, I was able to exceed 60 fps. I also didn't want the GPU to be a factor, so I ran it at 1920x1080 resolution at the game's preset of medium.
Sadly, the result looks like a flashback to the benchmark for 3DMark's API Overhead test in DirectX 11. And no, I wasn't hitting some odd frame rate cap, as lowering the resolution and image quality pushed performance up to 125fps. It makes you wonder what exactly lets Microsoft label it as a DirectX 12 game. I've asked Microsoft for clarification, but I have yet to hear back.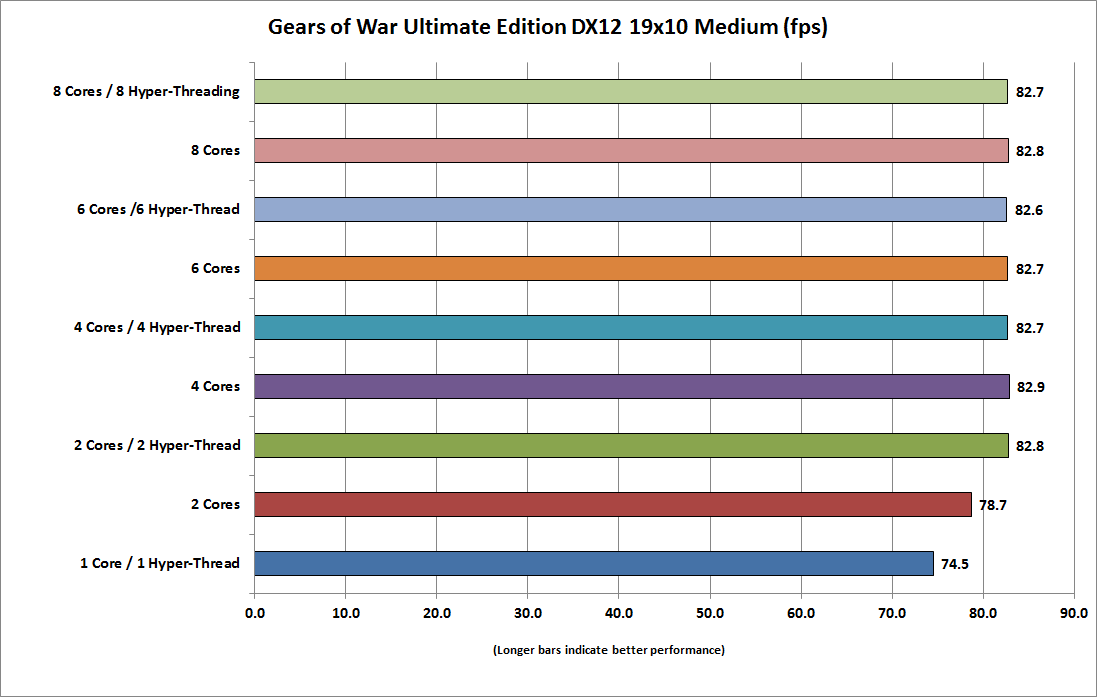 Microsoft's Gears of War Ultimate Edition is touted as a DX12 game but the built-in benchmark mode makes it look more like a DX11 game. (Click on image to enlarge).
To be fair to Gears of War, my testing was done solely in the game's built-in performance benchmark. While multi-core efficiency is one of the feature achievements of DirectX 12, other aspects of the new API would give Gears of War the DirectX 12 check-off. All I know is the performance benchmark doesn't seem to improve as you increase CPU cores.
What you should buy for DirectX 12
It's really pretty early to make any solid recommendations based on one synthetic test, one beta, and one game. But that doesn't matter, because you still want to know what to buy before the money burns a hole in your pocket.
Previous Page 1 2 3 4 Next Page