Tested: How many CPU cores you really need for DirectX 12 gaming
We benchmark an eight-core CPU in three DirectX 12 tests, and the results may disappoint you.
Just how many CPU cores do you need for PC gaming? The conventional wisdom for the last few years has been four or even two cores—if you have Hyper-Threading.
That convention got upended with DirectX 12's ability to use multi-core CPUs more efficiently than previous DirectX versions. But how many more? I broke out the latest gaming benchmarks to find the answer.
How I tested
For my test I used the latest build of Windows 10 on a PC with an eight-core Core i7-5960X, 32GB of DDR4/2133 RAM, and an AMD Radeon Fury X GPU. To see the effect of losing cores, I manually switched off cores and Hyper-Threading while running the test.
Note that as you scale back the core count on the chip, Turbo Boost reacts by giving you a little more clock speed. Rather than turn off Turbo Boost, I'll just note that up to two cores with Hyper-Threading, the chip runs at 3.5GHz. Beyond that it ran at 3.3GHz. In an ideal world, I'd use different CPUs, as each specific chip reacts a little differently, but this is a pretty reasonable approximation.
The first test I ran was Maxon's Cinebench R15. It's a great real-world benchmark that gives you an idea of how more threads could pay off. It doesn't scale forever, as I discovered when testing the Falcon Northwest Tiki, but here with a "mere" eight cores, it climbs for the stars.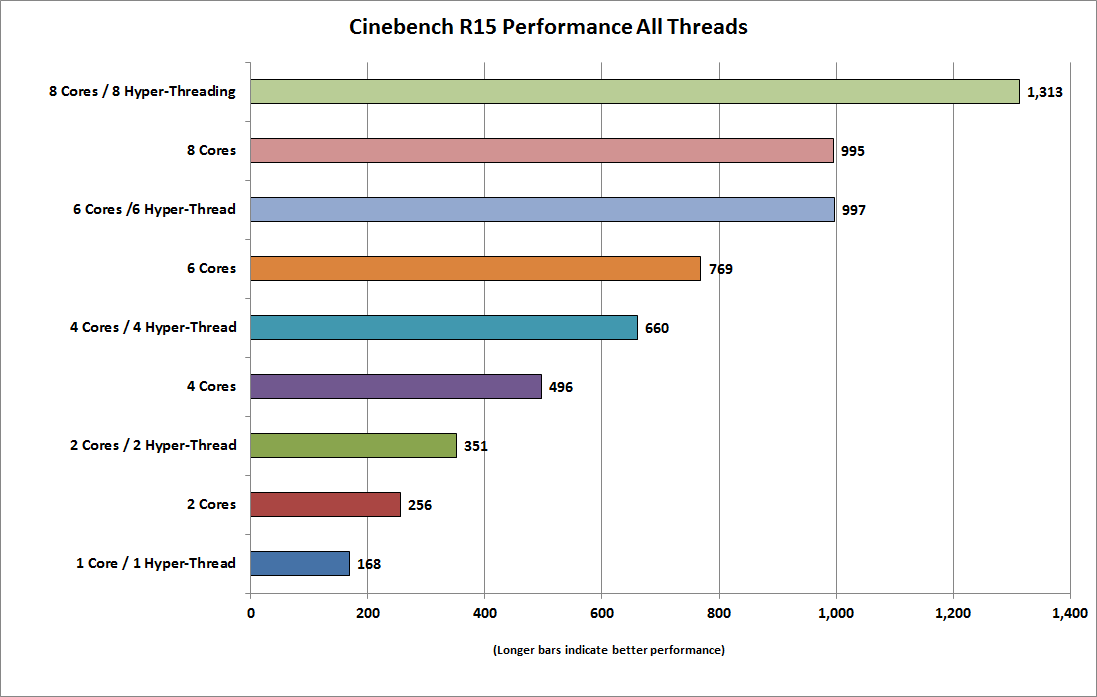 Cinebench R15 is a 3D rendering benchmark that likes a ton of CPU cores thrown at it. It's not about gaming but it shows how some workloads will climb for the stars. (Click on image to enlarge).
Cinebench R15's rendering test, though, is a pure CPU test. What about gaming? For that, I first turned to 3DMark's API overhead test. This was one of the first showcases for all that is possible with DirectX 12, and when I tested it last year I found that a quad-core with Hyper-Threading paid huge dividends over a dual-core. The chart below pretty much proves that cores matter more than clock speed.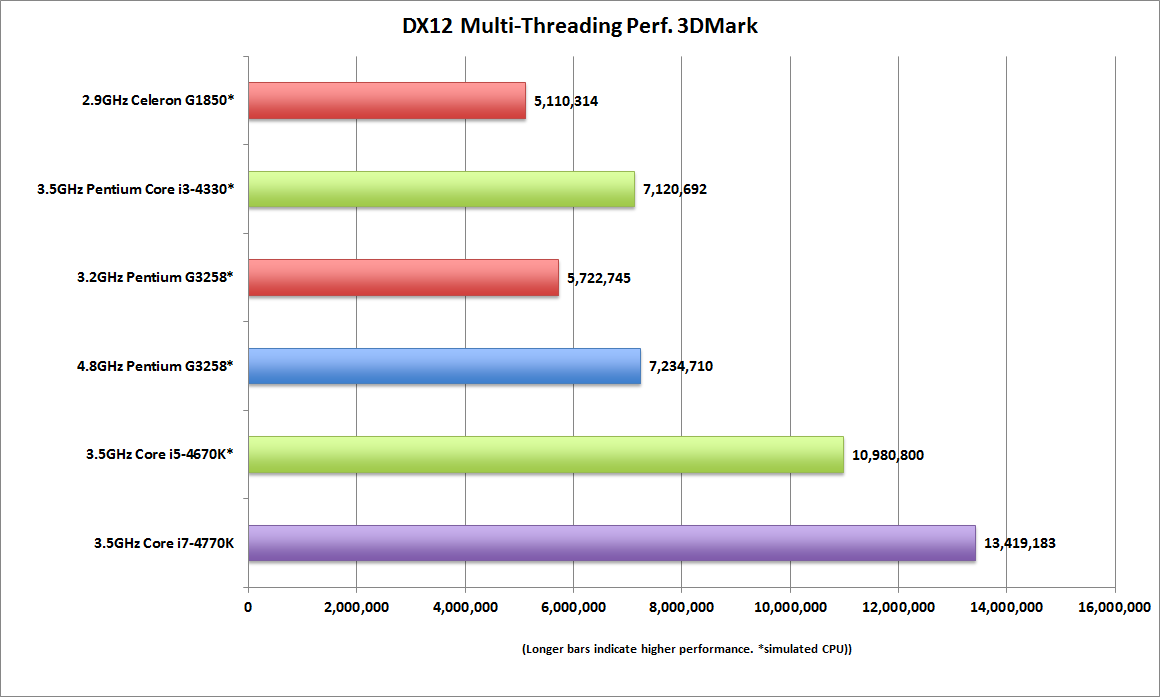 These are tests of DirectX 12 performance differences between various thread counts and clock speeds on simulated CPUs. (Click on image to enlarge). Credit: PCWorld
You want to see eight cores in DX12?
Last year, unfortunately, I didn't have an eight-core chip available and had to settle for quad-core numbers. This time, with an eight-core rig up and running, the results are far more interesting. 3DMark's feature test shows DirectX 12 scales very nicely as you add Hyper-Threading and and core counts. Unfortunately, it hits a wall at about six cores. Adding Hyper-Threading and more cores made no difference.