Tesoro Lobera review: This budget RGB keyboard could use a new look
Fake rivets are where I draw the line in 2016.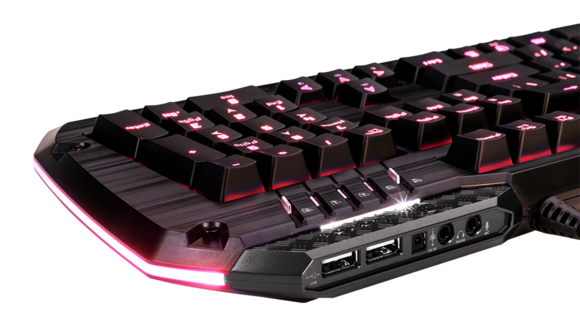 And in terms of raw backlighting, the Lobera is on par with Razer's more expensive models—no surprise, given the fact they use the same technique for embedding LEDs. Lighting is bright, the gradients between colors are smooth, and (another nice touch) there are a number of default modes you can cycle through on the keyboard itself sans software-tweaking.
Cons to the Kailh/Razer style of backlighting: It's uneven. LEDs are embedded at the top of each key, so letters and main functions look good. Any secondary key functions look faded and dim, though.
Razer "solved" this defect by making it so secondary functions simply aren't illuminated. Seeing the Lobero, I understand why. The Function row here suffers from two-toned lighting, the upper edge bright and the lower edge (with Play/Pause, volume controls, etc.) looking wispy even in dark rooms.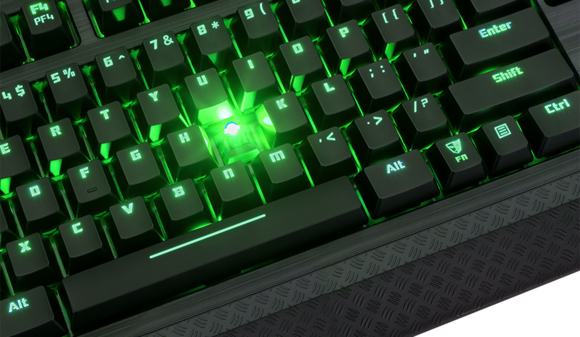 But that's a minor quibble—to be honest, it's not even as obnoxious as the faux-metal palm rest.
If you want more control, you'll need to download Tesoro's software. Problem being: It's not great, and it doesn't actually get you much more control—not without a bunch of hassle, at least. It took me over an hour to figure out how to change per-key lighting. So you know: You'll need to head into Lighting Effects, then Spectrum Color, then click on each key and set a color one at a time. I don't think there's a way to set an entire zone or a group of keys at once, and if there is a way, well, I couldn't decipher this 2001-MP3-player-looking program enough to figure it out: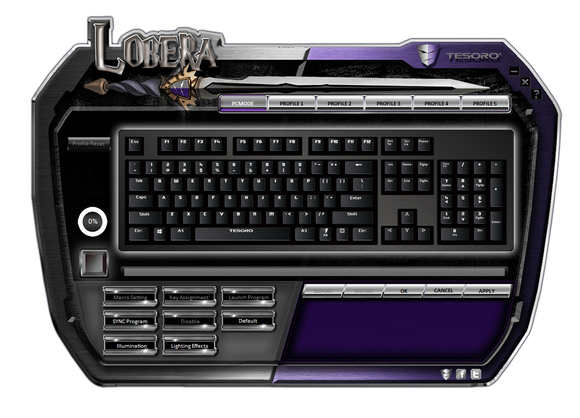 There's also a mysterious "Audio" mode that I couldn't get to work no matter what I tried. It's apparently supposed to react to whatever audio is being played, like a hardware visualizer, but the Lobera stayed resolutely dark whether playing music through Spotify or films through Netflix.
A note on switches
One last thing before we go: These are Kailh switches. Some people straight-up enjoy Kailh switches over Cherry MX. Some (a lot of people) can't tell the difference.
It's something to be aware of, though. These are effectively knock-off Cherry switches—they even feature the same Blue/Brown/Black/Red naming conventions, and Tesoro's use of "Gaming-Grade Mechanical Switches" on the packaging helps confuse things.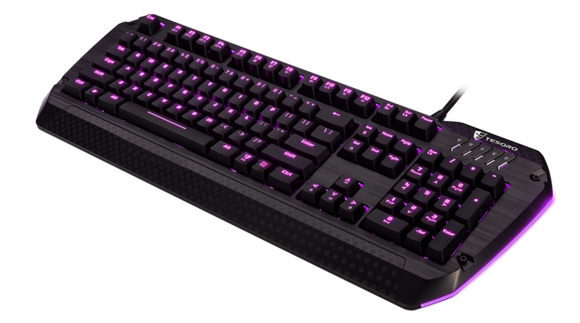 Kailh is generally not as reliable as Cherry. This is based on both my own experiences and on the larger Internet sphere. You're more likely to get a subpar board, manufacturing tolerances aren't as tight, and durability isn't (in general) as high.