Tesoro Lobera review: This budget RGB keyboard could use a new look
Fake rivets are where I draw the line in 2016.
Everybody and their uncle is making an RGB-enabled keyboard these days, but that's small consolation if you don't want to spend a fortune. Most are on the high end of keyboard prices, to say the least—like, $150 or more. Quite a premium to pay just so you can feel like you live in Tron.
But not Tesoro! Sure, the company is using straight-up Kailh keys and the design is a bit less sleek than other keyboards, but that doesn't change the fact the Tesoro Lobera Spectrum lists for $140 but can be found on Amazon for under $100.
So let's take a look.
It's a brick...house
Okay, so the design could use some refinement. With modern design trends skewing towards "It looks like a normal keyboard," the Lobera really stands out. We're talking faux brushed metal, faux diamond plate, and even fake rivets.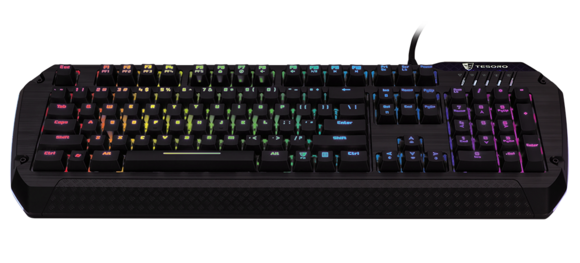 It's also a pretty chunky keyboard. Not in terms of weight—it's actually pretty light, because most of the casing is plastic. But the bezel is massive, with angular protuberances jutting off in all directions. This thing takes up more room on my desk than the already-oversized Razer BlackWidow Chroma.
And then there's the typeface emblazoned on each key. It sits somewhere between "Generic Industrial" and "Consolas." Thick, chunky, somewhat illegible.
Point being: It's not a looker. I wouldn't focus on it so much, except for the fact you're buying an RGB keyboard. Looks are literally the whole selling point.
There are some nice touches. The cable is sheathed fabric which is a welcome luxury, and two translucent strips on the sides provide a bit of underlighting, like a tricked-out street racer. It's silly but looks pretty good from afar.

Finally, a keyboard for The Fast and the Furious fans.
Overall though, this keyboard's aesthetic feels outdated and overlarge. It's one of the last holdouts in a world that's mostly moved away from the tenets of 2005-2010 "Gamer-centric" design and towards sleeker, more professional setups.
Price to performance
I did mention you can find it for under $100 though, right? And from a pure performance perspective, the Lobera is pretty damned competitive. A hydra of connections give you USB, headphone, and microphone pass-through which is a relative rarity.
There's also a button dedicated to Game mode and one for Macro recording, with five profiles available for on-the-fly swapping (mapped to F1 – F5). There are no dedicated macro keys but all buttons are fully programmable and the keyboard carries onboard memory for settings storage.