Tesoro Excalibur review: An RGB-enabled keyboard for the budget-conscious
Alternatively: An RGB keyboard minus (the rest of) the frills.
Another nice touch: You can change between some basic lighting modes on the board itself, without installing Tesoro's software. That's excellent, since doctors have yet to study the psychedelic nightmares that no doubt result from using a keyboard in spectrum mode long-term.
Jokes aside, it's also a nice gesture because Tesoro's software is abysmal. Like the Lobera, Excalibur's software looks like a shareware music player or EQ plugin from 15 years ago, and it's about as functional.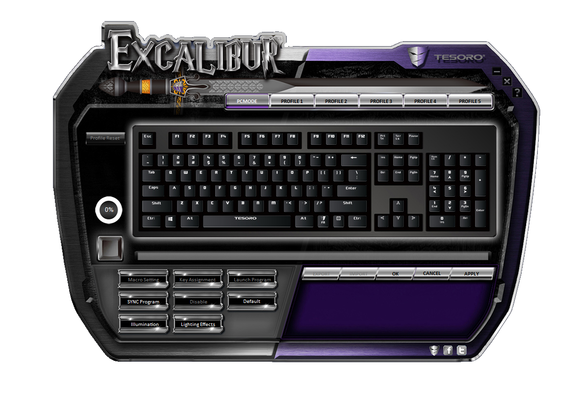 Setting a color for the whole board is fairly easy, as is setting a global effect, but it takes a hell of a lot of digging to figure out how to set per-key lighting. For the record: You need to go into Lighting Effects, click on the Spectrum Colors setting, and then click on each key individually and set a color. There's no way to set colors across common zones (say, the Function row) nor can you click and drag or Shift-click multiple keys at once.
Just to rub salt in the wound: I couldn't find a way to set a new default color, so if you want a weird shade of green or whatever you'll need to enter the precise RGB coordinates for every single key. More hassle than it's worth.
Still, put in the time and you have access to most of the same functionality you'd find on a Logitech or Corsair or Razer board, with lighting that's on par with the latter's much-more-expensive models.
A Cherry by another name
Be sure you're comfortable with Kailh switches, though. That's an important part of this story. While some of Tesoro's non-RGB boards use Cherry MX keys, the Spectrum line uses Kailh switches—and thus the similarity to Razer's RGB-enabled line.
Why is that a crucial distinction? Well, for some of you it probably isn't. Kailh switches are pretty expert Cherry knock-offs, even borrowing the same Red/Black/Brown/Blue categorizations. It's a wholesale clone.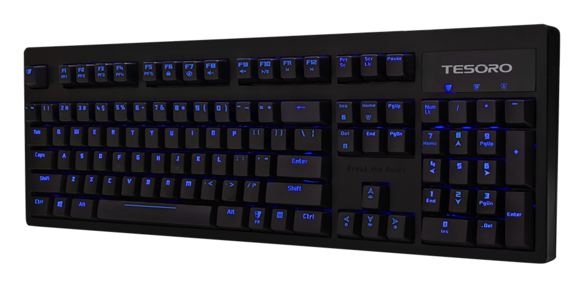 But Kailh is generally less reliable than Cherry, with broader manufacturing standards. Problems seem to crop up more often with Kailh boards, be it phantom keystrokes or unresponsive keys or what have you. It's unlikely you'll get a bad Kailh product, but it's more unlikely you'll get a bad Cherry product, if that makes sense.
Still, if you're upgrading from a busted ol' rubber dome keyboard or a scissor switch-equipped laptop? Anything's going to seem like a huge upgrade.
Bottom line
It may not have as many top-tier features as the Lobera, but the Excalibur packs the same RGB lighting into a more palatable chassis. No fake rivets! No fake metal! Just a simple black rectangle with rainbow lights.