Sharkk's Bravo hybrid electrostatic cans bust the bass, but hit for par elsewhere
Mediocre mid-range and top end takes some of the luster off the Bravo's superb bass performance.
In fact, the low end was so unexpectedly good that it raised my expectations—perhaps unrealistically so. Was this one of those rare products that outperformed competitors at two or even three times the price? Alas, no.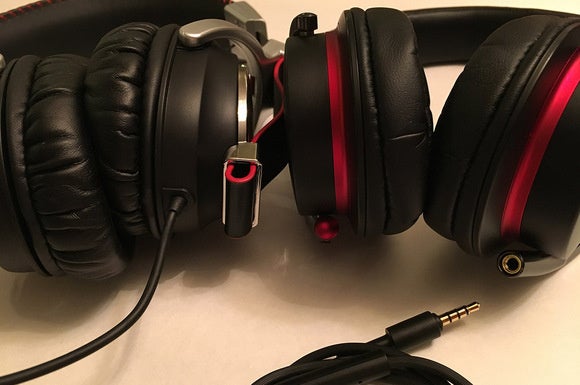 Theo Nicolakis: The Bravo's cable (left) is not detachable like the Sony MDR-1A (right).
Sharkk's marketing materials claim that the Bravo has "pristine midtones and high tones." There is also a statement that "audio quality that is typically priced upwards of $3000 is now available at ten percent of the cost." Let's just say I wouldn't go packing up your $55,000 Sennheiser Orpheus or even your $699 Oppo PM-2 just yet. I found the Bravo's sound to be somewhat on par with headphones at its price point, not ten times its price point. Just to make sure I wasn't missing something, I compared the Bravo to five other headphones: the $699 Oppo PM-2, the $399 B&W P7, the $309 Meze 99 Classics, the $299 Sony MDR-1A, and the $250 AKG N60 NC. I also fired up Revel's $2000/pair Concerta F36 floor-standing loudspeakers (that I have in for another review). My impressions were confirmed each time.
While the Bravos could legitimately claim to keep pace down low, the midrange was veiled and the top end had a tendency to be dull. The result? Music came across a constricted soundstage. Instruments had less air around them. Practically speaking, on tracks like the hi-res music version of Patricia Barber's "Too Rich for My Blood", I lost the intimate sense of the "space" the musicians were performing in.
There's an undeniable impact on individual instruments too. Snare drums on the hi-res version of Tom Petty's "Here Comes My Girl" came across comparatively dull. The immediacy and snap of each strike just wasn't there. The opening guitars of "Long Distance Runaround" from Yes' album Fragile didn't have that same clarity or airiness. All in all, it was like I was listening to these songs with a veil between me and the performances. I noticed this most on the Mad Max: Fury Road soundtrack with the "Chapter Doof" track. Some very good headphones that I've auditioned present this track with dynamics and bite. The track should come across with a sense of space with complex layers of different sounds easily distinguishable. The Bravo struggled a bit here and couldn't master those elements on this and other tracks. While the Bravo nailed the low end, they only hit for par on everything else.
Previous Page 1 2 3 4 Next Page