Sharkk's Bravo hybrid electrostatic cans bust the bass, but hit for par elsewhere
Mediocre mid-range and top end takes some of the luster off the Bravo's superb bass performance.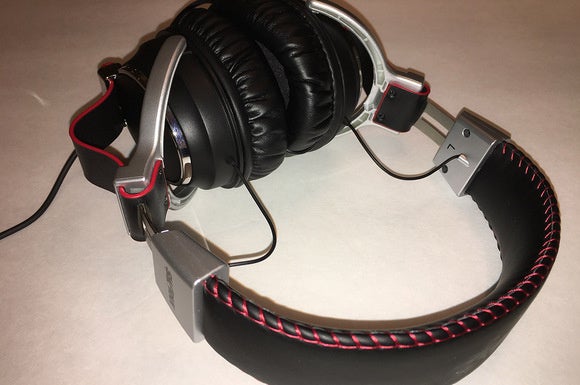 Theo Nicolakis: The Bravo's headband has a bold look with its exposed red stitching.
At times, as comfortable as a vise
The Bravo's noise isolation was very good, lowering the noise floor and helping me hear deeper into the music without trying to compensate for outside noise. The headband is infinitely adjustable (a real plus), and micro-adjustments were always smooth and secure; the pressure exerted by the headband/ear cup design, however, was slightly uneven.
When I wore them there was slightly more pressure exerted on the lower part of the ear cup than on the top. That uneven pressure became uncomfortable after a while. The Bravo felt somewhat similar to the Sony MDR-1A, but are far tighter—they are in some ways clamp-like. The difference in pressure made all the difference in comfort between the two models. In contrast, the Bowers & Wilkins P7 and the Meze 99 Classics offered a far more comfortable fit.
Even after bending the headband back to loosen it up a bit, I was never able to get a truly balanced fit and feel with them. It is quite possible that things will loosen up over time. I have had similar experiences with other headphones—such as the B&W P5—which were very tight when they first arrived but loosened up over time. As a result, I didn't enjoy wearing the Bravo headphones for long listening sessions.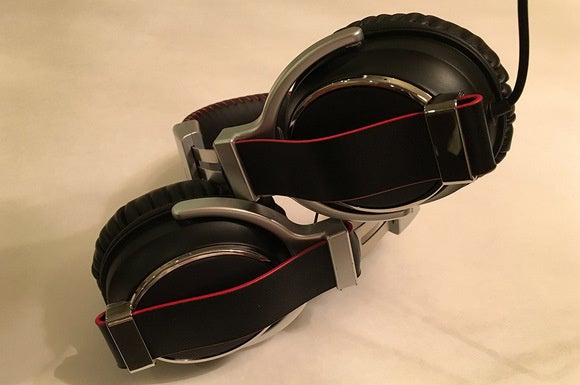 Theo Nicolakis: The imitation leather styling on the ear cups will be a matter of personal preference.
Listening to the hits (and misses)
I used the Bravo headphones with an iPhone 6s and a MacBook Air without issue, but I did my critical listening on an $899 Astell&Kern AK100II digital audio player. The real strength of the Sharkk Bravo headphones is their low-end reproduction: It flat out rocks. You'll be hard-pressed to find headphones at this price point that will outpace them on that score. Track after track, I consistently found bass reproduction to be tight with good detail and punch. For example, the bass lines in the hi-res versions of Michael Jackson's "Bad," "The Way You Make Me Feel," and "Speed Demon" were nimble and struck with beautiful precision. The kick drum on Alison Krauss's and Robert Plant's "Please Read The Letter" exhibited that oh-so-right clarity and texture that I've experienced with more exotic and expensive headphones.
Unlike many headphones in this price range, the bass didn't fizzle, suffer excessive boom, or convey artificial emphasis. In that respect, the Bravo will easily compete with (and even surpass) some models costing significantly more. I tip my hat to the Sharkk team.
Previous Page 1 2 3 4 Next Page