Seagate Barracuda Pro 10TB hard drive review: Vast and amazingly fast (for a hard drive)
It can't match an SSD, but it makes a great companion for one.
10TB is a lot of data. I have a hard time filling up my lone WD 4TB drive and there is a lot of multimedia on there. A lot. The Barracuda Pro is the equal of two of those, plus a 2TB drive. Unless you download a lot of stuff and never dump any of it, 10TB is massive overkill.
Not that you wouldn't take a 10TB drive over a 4TB drive if they were handed out for free. But you do need to consider that you're putting all your eggs in one basket. If the drive goes bad, still a very common occurrence, you're SOL (surely outta luck). Unless, of course, you back up regularly, or are willing to pony up a substantial amount of coin for a pair of the $500 Barracuda Pros to mirror each other. Mirroring has saved my bacon many a time when backup schemes go wrong.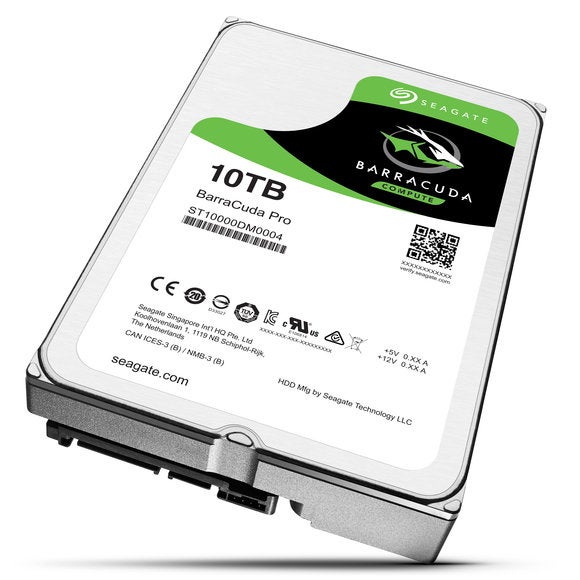 Seagate's new Barracuda Pro 10TB hard drive.
All this adds up to a warning not to overbuy, especially if you're already running an SSD, which you should be if you like fast data transfers. The Barracuda Pro's speed is seductive, but a pair of 2TB drives (rather slow ones) can be had for $100 and a pair of average 4TB drives, around $250. That's a lot more affordable. You can also mimic some of the performance (and increased vulnerability) of the Barracuda Pro by running two drives in RAID 0 (striped) rather than a mirrored RAID 1.
Warranty
The 10TB Barracuda Pro is warrantied for five years at 180TB worth of writes per year, or 900TB over the warranted lifespan. The SSD folks call this TBW (terabytes written), and Seagate's promise far outstrips the amount of data likely to be written to the drive. Then again, there are moving parts here. The warranty is limited, and includes only replacement, not data recovery. You'll need to purchase Seagate's Rescue service for that, at $10 for one year or $15 for two years. Why not the full five years? I can't say, but most of my drives that have gone bad have lasted more than two years. Just saying.
Conclusion
This is an absolutely fantastic hard drive. But 10TB is massive overkill for the average consumer. And data redundancy in the form of a $1,000 mirrored RAID pair is very pricey.
Warnings aside. To heck with it—if the powers that be let me keep this drive, I'd replace my 4TB with it in a heartbeat. Keeping it routinely backed up, of course.