Seagate Barracuda Pro 10TB hard drive review: Vast and amazingly fast (for a hard drive)
It can't match an SSD, but it makes a great companion for one.
I've used "Vast and fast" to describe previous hard drives I've reviewed, but I'm not sure that it's ever been this spectacularly well-deserved. Seagate's 3.5-inch, 7,200rpm, SATA 6Gbps Barracuda Pro not only delivers a stunning 10TB of storage, it laid down some rather astounding transfer rates: 240MBps in both directions of our 20GB copy tests. At first, we didn't quite believe what we were seeing, but several repeats and throwing even larger data sets at the drive convinced us.
The Barracuda Pro is still a hard drive, so seek times aren't close to SSD-like, but if we had to build a system around a hard drive, this would be it.
Performance
By the numbers, AS SSD rated the drive at 243MBps reading and 229MBps writing. In our 20GB copy tests, which are subject to the vagaries of the Windows 8.1 operating system, that was closer to 250MBps each way with a single large file. Even with a 20GB mix of smaller files and folders, reads and writes, which were nearly identical in pace, dropped only to about 145MBps. (Ah, those seek times.)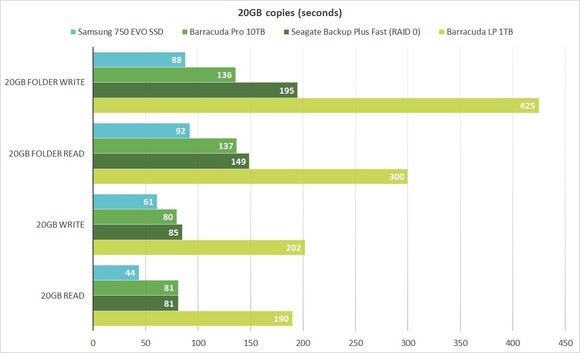 While not as fast as an SSD, the Barracuda Pro is closer than anything we've seen to date. Note the relative slothfullness of the other internal Barracuda.
How did Seagate do it? We're not sure, but the SMR (shingled magnetic recording) drive is extremely high-density, and has a whopping 14 platters and 7 read-write heads. Perhaps the company has leveraged some of the algorithms developed over the last few years for SSD controllers and is scattering data equally about the platters. Combined with 7,200rpm and its 256MB cache, that could do the trick. Whatever Seagate's done, we like it.
We also brought HD Tach out of retirement, and it seemed to say that the Barracuda Pro retains its speed across the entirety of its capacity. That's unusual; hard drives tend to write faster on the outside of the platters where sectors whip by at a faster pace than on the inner portions of the disc. More fodder for speculation.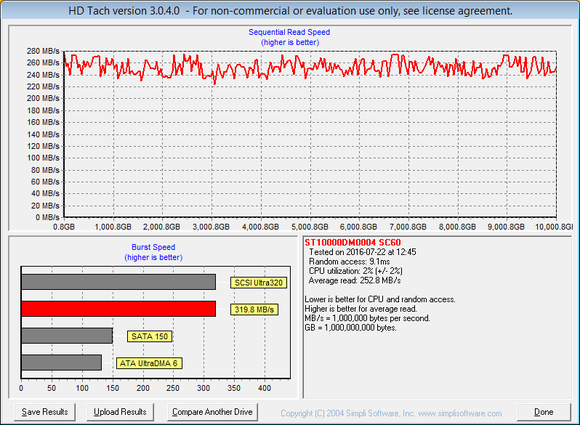 Could it be true? HD Tach is old-school, but it seemed fine with the Barracuda Pro 10TB and indicates that unlike most hard drives, it's a consistent performer across the entirety of the drive.
The Barracuda Pro also draws a mere (in HDD terms) 6.8 watts when operating. That's very low for a hard drive, and far lower than, say, the five 2TB drives you'd need to get the same amount of capacity.
The ramifications of capacity