Sapphire Nitro+ RX 480 review: Polaris rethought and refined
The wait was worth it for custom Radeon RX 480 cards.
Doing so required cranking the fan speeds pretty high to avoid throttling. We set the max at 3,000 RPMs, which is definitely noticeable and definitely loud. Under load, they routinely spun at 2,800 RPMs or more, which helped keep the card running cool despite all the extra power coursing through its innards.
Now for the bad news: That epic (for Polaris) bump in clock speed still didn't result in massive performance increases, though there were slight improvements in the games and benchmarks we tested. (Note, however, that we're coming the 4GB Nitro+ against an 8GB reference RX 480, which not only has more memory, but faster memory, too.) Seeing that, Sapphire's decision to keep the clock speeds lower (and thus, also keep the card cooler, quieter, and drawing less power) seems rational.
See for yourself!
Temperatures
Power use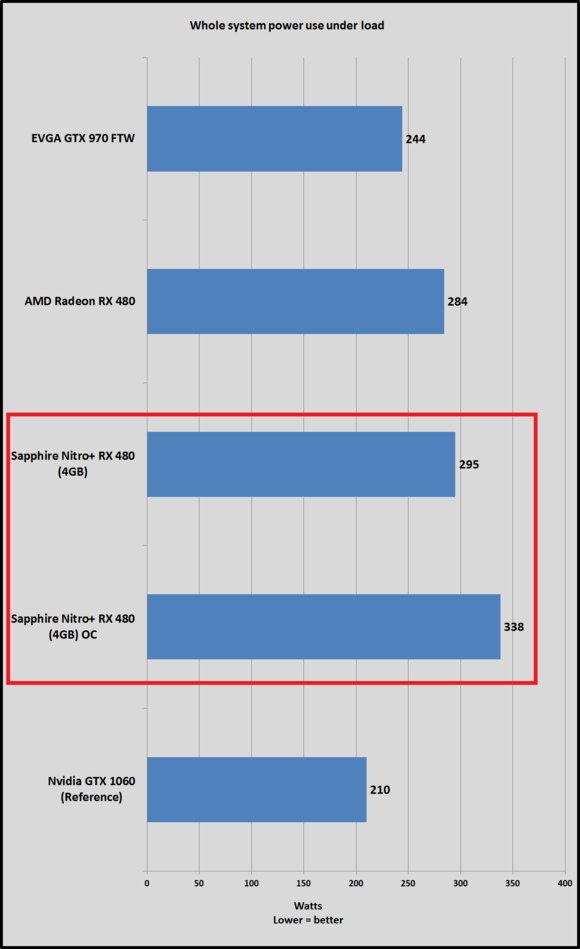 3DMark
The Division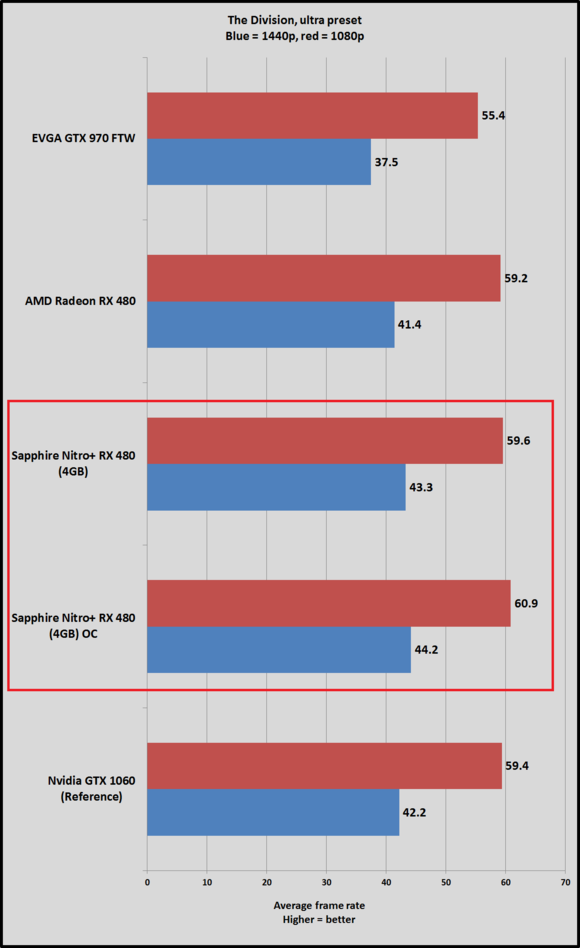 Far Cry Primal
Ashes of the Singularity
Next page: Bottom line
Bottom line
Simply put, the 4GB Nitro+ RX 480 is a stellar take on a revolutionary graphics card. Every aspect of Sapphire's card seems meticulously thought-out. It's astonishing just how premium this card feels for its comparatively low price, especially considering it only costs $20 more than reference RX 480s.
The programmable LEDs, attractive design, and metal backplate on the card helps Sapphire's card ooze quality and class. The returning Dual-X cooling system isn't quite as chilly as the insanely potent Tri-X system on pricier Sapphire models, but it keeps the Nitro+ RX 480 running cool while staying whisper-quiet the entire time. Even the altered port arrangement screams intelligent planning, replacing superfluous DisplayPorts with connections that buyers of a budget-friendly, VR-ready graphics card are more likely to actually need.
The only minor hiccup lies in performance. The modest out-of-the-box overclock in the 4GB Nitro+ RX 480 simply doesn't move the needle much—though that limited overclockability seems to be more of a Polaris "problem" than a Sapphire one. It's also worth noting that we're comparing a 4GB Nitro+ model against the 8GB reference RX 480 in these tests, which sports not just more memory, but faster memory. I'd have like to compare models with similar memory capacities and speeds, but alas, that's just not how the review samples shook out.
Previous Page 1 2 3 4 5 6 7 8 9 Next Page