Sapphire Nitro+ RX 480 review: Polaris rethought and refined
The wait was worth it for custom Radeon RX 480 cards.
We're comparing the $220 Nitro+ RX 480 (4GB) against AMD's reference $240 RX 480 (8GB), Nvidia's $300 GeForce GTX 1060 Founders Edition (which essentially performs on par with a $250 GTX 1060 reference card), and the same rivals we used in our reviews of those two cards. EVGA's GTX 960 SSC, VisionTek's Radeon R9 380, and Sapphire's Radeon R9 380X represent the last-gen crop of $200-ish graphics cards. They don't hold a candle to the new generation. You'll also find results for more potent options that the GTX 1060 more directly compares to: the Sapphire Nitro R9 390, EVGA GTX 970 FTW, MSI Radeon 390X Gaming 8GB, and the reference Nvidia GTX 980.
We benchmark every game using the default graphics settings unless otherwise noted, with all vendor-specific special features—such as Nvidia's GameWorks effects, AMD's TressFX, and FreeSync/G-Sync—disabled. These cards can't really deliver a compelling 4K gaming experience, so we limited our testing to 1080p and 1440p resolutions.
Sapphire sent us a review sample very shortly before launch, so all tests were performed using the default 1306MHz "Boost" BIOS. I'm hoping to test the card in quiet mode as well as push the overclock further later today. I'll update the article to include the results as soon as I do. UPDATE: Overclocking results have been added towards the end of the article.
But enough jibber-jabber! Let's see what an overclocked, custom-cooled RX 480 is capable of.
The Division
The Division, a third-person shooter/RPG that mixes elements of Destiny and Gears of War, kicks things off with Ubisoft's new Snowdrop engine.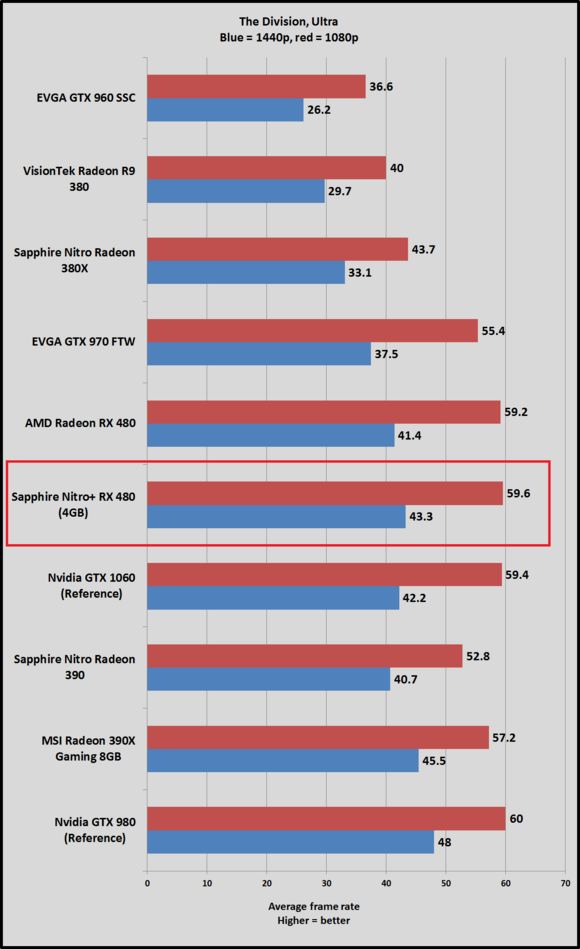 Here, we see the start of a trend we'll witness throughout the Nitro+ RX 480's review. The card's mild overclock doesn't push it much higher than the frame rates pumped out by the reference RX 480, but it does enough to bring the AMD-powered card into parity with Nvidia's more costly GTX 1060 Founders Edition.
Next page: Hitman
Hitman
Hitman's Glacier engine heavily favors AMD hardware. It's no surprise; Hitman's a flagship AMD Gaming Evolved title, complete with a DirectX 12 mode that was patched in after the game's launch.
Important note: Hitman automatically caps the game's Texture Quality, Shadow Maps, and Shadow Resolution at medium on cards with 2GB of onboard memory, meaning the EVGA GTX 970 FTW and VisionTek R9 380 were tested at lower graphical settings. I've still included them in the graphs below for two reasons: 1) because they're the $200 cards the GTX 1060 and RX 480 are directly replacing, and 2) so you can see the comparative DX11 vs. DX12 performance on those cards.
Previous Page 1 2 3 4 5 6 7 8 9 Next Page