Samsung SmartCam HD Pro: Not so pro
The camera itself takes good enough images, but the apps are disappointing.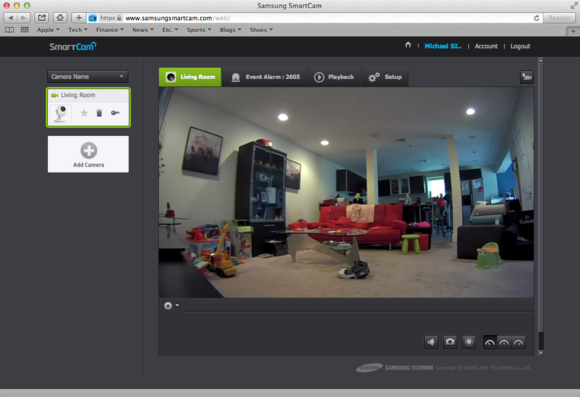 The 128-degree viewing angle can see almost a whole room at once.
The mobile apps might not be much to look at, but they do a nice job of protecting your camera from prying eyes by utilizing a pair of passwords. However, connection was a constant issue; I spent a lot of time in the low-resolution relay mode (sometimes even when sitting just a few feet away from the camera), and while hard-wiring it to my router as suggested helped some, it still inexplicably struggled to get a strong connection at times. And there were more than a few times when I couldn't connect at all, including one stretch that lasted several hours. A mid-review firmware update went off without a hitch, however, and the camera seemed a bit more reliable after a restart.
My viewing issues weren't limited to the mobile apps, either. Halfway through my testing I stopped being able to log in to the SmartCam web portal on my MacBook, and every browser I tried continuously prompted me to redownload the plug-in that was already installed. Samsung's support was little help, but it may have been a Mavericks-related issue, since I had no problems on an iMac running Mountain Lion.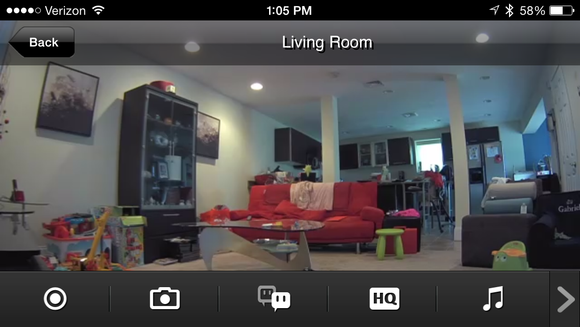 The mobile apps showed decent video when they were able to connect to the camera.
Mobile-only features like built-in lullabies and two-way talk, although the speaker was rather muddled. Samsung does not include any cloud storage options for the SmartCam, but if you want to save a clip locally, it does offer a handy SD card slot. It's a decent solution that requires a bit more maintenance than Dropcam's version, but it'll save you a bundle in recurring fees.
Bottom line
Samsung's SmartCam HD Pro is another in the company's long line of me-too products, but this one doesn't improve on much of anything.