Samsung SmartCam HD Pro: Not so pro
The camera itself takes good enough images, but the apps are disappointing.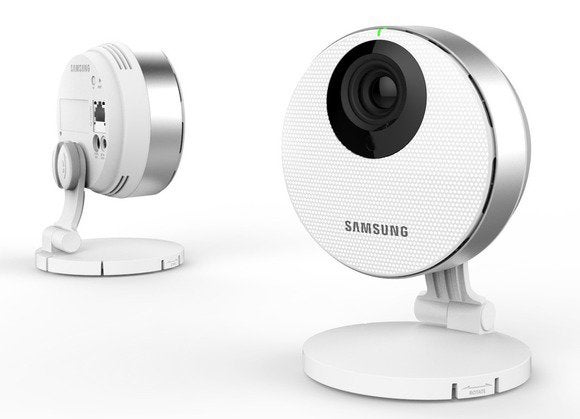 There aren't many pies that Samsung doesn't have its fingers in these days. From smartphones to vacuums, Samsung has a version of pretty much anything you want to buy, but with such an enormous breadth of products, it's hard to sweat the details. I've used many a Samsung product that falls victim to a lack of focus, and the SmartCam HD Pro is a perfect example.
While it's a very capable security camera that promises to keep a close eye on whatever needs watching, the SmartCam HD Pro (model SHN-P6410BN) suffers from an overall lack of imagination and attention. Throughout the course of my testing, the SmartCam presented enough problems that I was never quite sure if it would work, a frustration that overshadowed everything I liked about it.
Looks familiar
Samsung has a history of mimicking market leaders to get its products on shelves as quickly as possible, and in this instance, Dropcam was clearly the inspiration. Unlike its competitor's matte-black metal enclosure, however, the SmartCam's body is made of glossy white plastic. It doesn't necessarily feel cheap, but it's a far cry from a premium product, and I got the impression that it wouldn't hold up to much abuse. Setup using the included Ethernet cable was mostly painless (a WPS-supported router won't need one), though I needed to download a proprietary plug-in before I could begin the process.


You can mount the SmartCam to a wall or stand it on a shelf.
A tiny light lets you know that the camera is connected and running, and once it turns green, the SmartCam can operate solely over Wi-Fi. It rests nicely on its small stand, which doubles as a wall mount, but the power cable sticking rather inelegantly out of the back limits its placement somewhat.
You can see what your camera is monitoring via the Android and iOS apps or over the web, and each is able to display streaming video in full 1080p. The video was certainly sharp and vibrant, but the overall clarity didn't quite seem up to HD standards, and quite frankly, I didn't see a major difference in quality when switching to 720p. The camera position can be slightly adjusted when using the stand, but 128-degree viewing angle does a fantastic job of of showing a very wide area, with only minor fish-eying at the edges.
Video woes
While both the website and the mobile apps beam video with surprisingly little lag, each offers its own set of frustrations. On the web you'll find a more expansive array of professional options, including "advanced" motion and sound sensitivity sliders that control how often you receive the appropriate notifications. There's not much of a middle ground, though--either I was bombarded with dozens of alerts every few minutes or I barely received any at all. My experiences with other security cameras and baby monitors utilized smarter notification systems right out of the box, and I'd like to see Samsung address this in the future.