Samsung 750 EVO SSD review: Like butter, but better
Everything you like about the 850 EVO and more.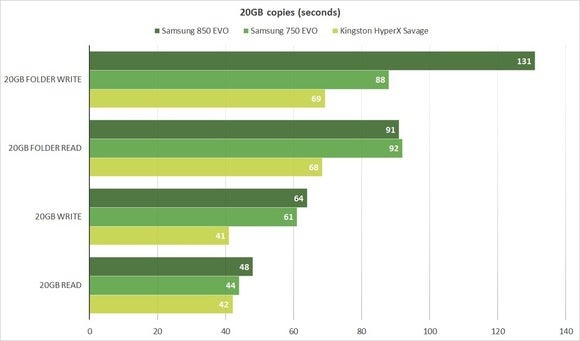 This is a somewhat unfair comparison between the EVOs and the MLC-based Kingston HyperX Savage. But note how the 750 did significantly better than the 850 in the single-file write.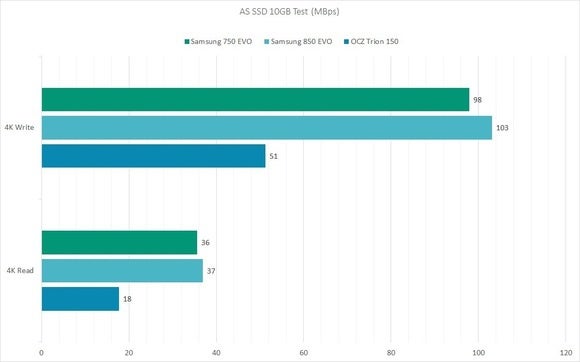 There are only mild differences between the 850 and the 750 when it comes to single-queue 4K operations.
Overall, the 750's performance falls short of a top-notch MLC or SLC SSD, but subjectively, other than those times that you're copying large amounts of data, the differences are hardly noticeable.
RAPID!
While the 750's native performance is better than the 850's, and smooth as butter with no additional software, Samsung does supply its RAPID interactive (with the drive) disk cache.
RAPID is enabled via Samsung's Magician software SSD utility, is transparent to the user, and makes the apparent speed of the drive, as well as the feel of your operating system absurdly fast. The numbers you see below bear that out.
However, when copying large groups of files, operations, while somewhat faster, become distinctly choppy as the cache is exceeded. You can readily track the interaction between the drive, cache, and normal NAND in the copy dialog seen below.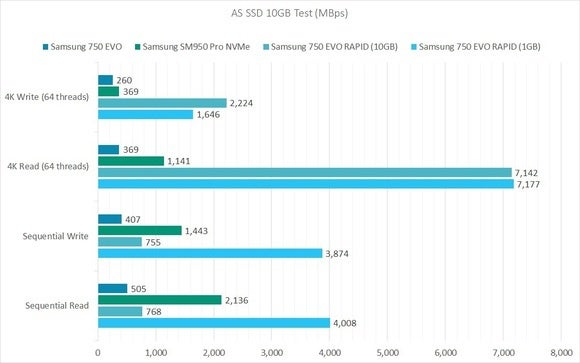 With the RAPID caching software installed, the 750 EVO's everday performance is absurd—beating the pants off Samsung's own very-fast NVMe drive. But using main memory to cache disk writes can also lead to problems if power is removed while you're still working.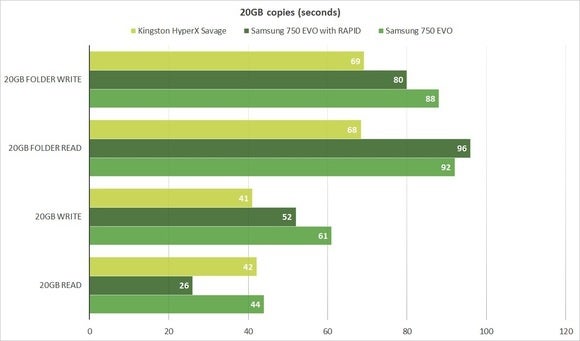 Using the RAPID caching software is still effective, if not as much so during large copy operations.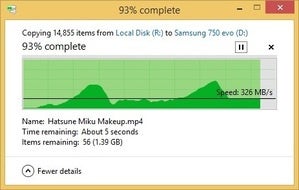 While this 20GB file-write operation was faster with than without the RAPID caching software engaged, it was also wildly inconsistent.
Generally speaking, using RAPID is worthwhile just for the incredibly facile feel it gives your computer. However, there is a danger; should your computer lose power in the middle of a write, data may be lost or your file system corrupted. If you're not doing anything particularly important, use RAPID. If you regularly deal with mission-critical data, don't.
Conclusion
Samsung's 750 EVO is the cream of the TLC-based SSD crop. It costs a bit more than the competition, but to my mind, the smooth performance is worth the extra dough. Especially as RAPID can give your computer a feel that's otherwise only achievable with a PCIe/NVMe SSD.
My only caveat is that there are still MLC NAND-based drives available for just a few dollars more than the 750 EVO. If using RAPID is not an option for you, then those drives offer a better all-around experience.