Roku Streaming Stick review: The best cheap way to make a dumb TV smart
The Roku Streaming Stick offers a solid app selection, good-enough performance, and some neat tricks for $50.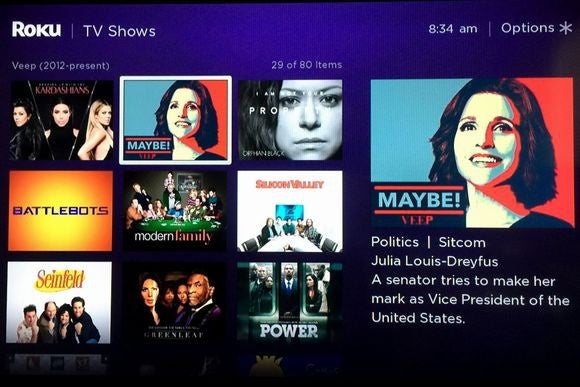 Roku Feed now lets you browse for TV shows from across different apps, and get notified when new episodes arrive.
Stick or box?
As noted in our streaming-stick comparison, the Roku Streaming Stick is a cut above Amazon's Fire TV Stick ($40, or $50 with voice remote) and Google's Chromecast ($35). It feels faster than the former, it has a dedicated remote unlike the latter, and it has a better app selection than both. Roku Feed is a forward-thinking feature that the competition would be wise to emulate.
But should you buy a streaming stick in the first place, or spend more on a set-top box? Right now, Roku doesn't make a compelling case to spend more. The Roku 3's only clear advantages are voice search and private listening, but its remote control is otherwise worse than that of the Streaming Stick--and it's twice the price. The Roku 4 is even pricier at $140, and its main benefits (4K video and a slight speed boost) will be hard for the average user to discern. You might want a set-top box for ethernet and USB media playback; but if that's the case, the $70 Roku 2 is a cheaper option. (The only drawback: Its IR-based remote requires line-of-sight, unlike the radio-based remote with the Streaming Stick.)
Typically, my advice is to err on the side of spending a little more, especially for a device you plan to use every day. And if that's your choice, there are other options beyond the Roku ecosystem. The fourth-generation Apple TV ($150 and up) has the most powerful voice search and a clever swipe-based remote control, while the Amazon Fire TV ($100) is a fast and fairly cost-efficient way to stream 4K video. The Nvidia Shield Android TV ($200) is slowly becoming a powerful choice for tech enthusiasts, with 4K HDR video support and Plex Media Server capabilities.
And yet, the new Roku Streaming Stick succeeds on so many fronts that it makes a strong case for spending less.
Previous Page 1 2 3