Roku Streaming Stick review: The best cheap way to make a dumb TV smart
The Roku Streaming Stick offers a solid app selection, good-enough performance, and some neat tricks for $50.
No-frills remote (with an assist from your phone)
One aspect of the Roku Streaming Stick that does feel compromised is the remote control. Unlike the pricier Roku 3 and Roku 4, the Streaming Stick doesn't include a headphone jack for private listening. It also lacks voice recognition, so you can't search universally across streaming services such as Netflix and Hulu. (Instead of the search button, there's an "Instant Replay" button that repeats the last seven seconds of video.)
Having said that, the Roku Streaming Stick remote is in some ways better than the remote that comes with Roku's set-top boxes. It's slimmer, and the rubberized buttons have just the right firmness. Also, Roku has moved the "OK" button from below the directional pad to the center of it. This might be the most comfortable streaming remote I've ever used.
Users aren't completely without voice search and private listening, though: Both are available through Roku's mobile app for iOS and Android, which also allows you to beam your personal photo and video library to the big screen. In my experience, however, the mobile app's audio quality is inferior for private listening, as it sounds far more compressed than Roku's remotes. And unless you commit to navigating primarily by phone, chances are you're not going to break it out just for the occasional voice search. In most cases, you might as well just to a text search from Roku's home screen.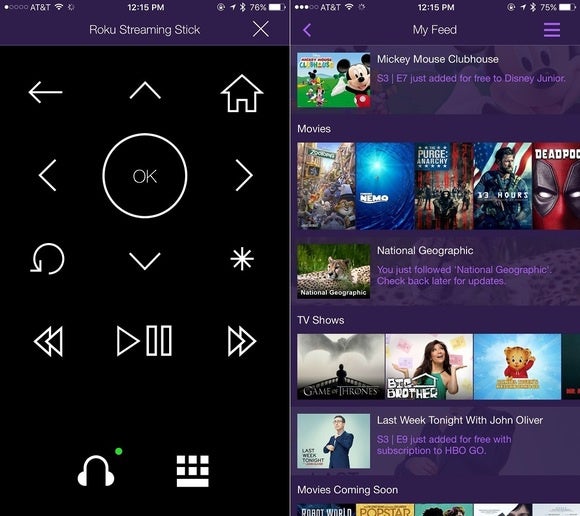 Roku's mobile app lets you search, browse the Roku Feed, and listen privately through headphones.
Beyond the app grid
Speaking of universal search, Roku's offering is more thorough than other platforms. In addition to looking across the big services like Netflix and Amazon, Roku also recently started indexing more obscure apps like SnagFilms and Shout! Factory TV. Still, it does have a couple of lingering problems: Information is sometimes inaccurate on rental pricing and availability, and there's no way to search by genre like you can on some other streaming devices, including the fourth-generation Apple TV.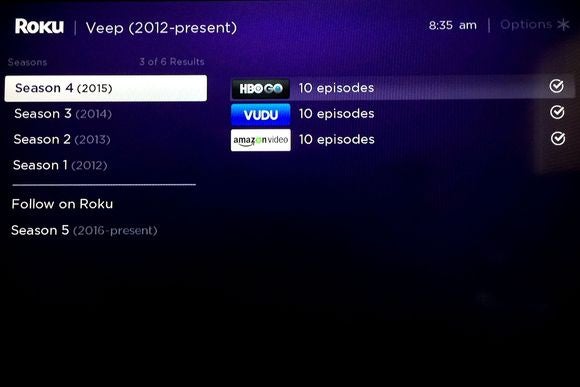 Roku search results aren't pretty, but they are often informative.
Roku also recently made some big improvements to its My Feed feature, which lets you keep a list of favorite movies and TV shows and receive notifications you when prices fall or new episodes arrive. The Feed now includes more sources, and it lets you browse for TV shows to add instead of having to search for them directly. The result is very close to the universal watch list I've long dreamed of for streaming video devices. (It's a shame, though, that Netflix still isn't allowing its content to appear.)