Roku Streaming Stick review: The best cheap way to make a dumb TV smart
The Roku Streaming Stick offers a solid app selection, good-enough performance, and some neat tricks for $50.
Roku's been busy on the hardware front lately. After launching three new streaming-TV boxes last year, the company is back with a new low-cost option in the $50 Roku Streaming Stick.
Like the version that Roku released in 2014, the new Streaming Stick (model 3600R) is a thumb-sized device that plugs directly into your TV's HDMI slot. You can then use it to stream internet video services such as Netflix, Hulu, and Amazon Prime.
This year's upgrade packs a major speed boost, allowing the Streaming Stick to rival some of Roku's recent set-top boxes. And while its remote lacks voice search—now table stakes on most other streamers—the Streaming Stick compensates with useful smartphone-based controls and an unparalleled app selection.
If you're looking for a cheap way to bring internet smarts to your TV—or you're tired of the speed and app limitations of your existing smart TV—the new Roku Streaming Stick is an easy recommendation.
A lightweight device for lightweight apps
App support is the single most important factor to consider in any streaming device, and as you can see in our streaming app showdown, Roku's selection remains unparalleled. With the exception of Apple services like iTunes and Apple Music, Roku supports all of the major streaming services, along with hundreds of lesser-known sources and hidden gems. (Roku's religious channels are a big draw, and you don't have to look hard to find troves of classic films available for free.)
Part of the reason Roku's platform has taken off is because the barriers to making an app are low. There are few barriers to entering the Roku Channel Store, and Roku's templates make it easy to get a basic app up and running.
As I've written in previous reviews, this is both a benefit and a burden. While Roku's app selection excels at quantity, the quality of its apps are sometimes lacking. In HBO Go, for instance, you don't get the lovely, image-driven interface found on the latest Apple TV. And in PlayStation Vue, there's no channel guide and no ability to watch and browse at the same time.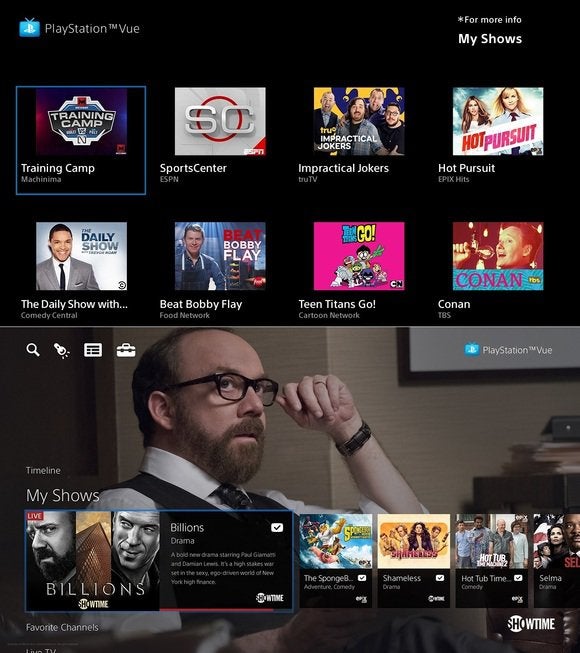 PlayStation Vue on Roku (top) isn't as pretty or functional as the Fire TV and PlayStation versions (bottom), but at least it's fast.
These bare-bones apps are major liabilities for Roku's more-expensive devices. But on a cheap device like the Roku Streaming Stick, they turn out to be strengths. You don't need much computing power to glide through Roku's cookie-cutter app templates, so the Streaming Stick doesn't feel like a compromise. (By comparison, the more ambitious apps on Amazon's $40 Fire TV Stick can take forever to launch or grind to a halt.) It even handles 60-frames-per-second video for sports programming from apps like PlayStation Vue and MLB.tv—it looks as smooth as a cable feed.