Review: 3 Bluetooth headphones for travel, work and play
These headphones from Audio-Technica, Bose and Plantronics offer private listening and calling for a reasonable price.
Oddly for a company that is known for its active noise-reduction technology, the SoundLink II headphones aren't equipped with active noise-reduction. However, I found that the ear pads effectively muffled most outside noise, effectively isolating me from the environment. In fact, putting them on with nothing playing quieted everything significantly.
The battery lasted for 10 hours of continuous music with hourly stops to make calls. That's 10 minutes shorter than the QuietPoint, but several hours longer than the Voyager Focus UC.
The device has a rudimentary battery gauge: The battery logo glows green when the unit is fully charged and then changes to amber at 50%; it blinks red when you have about 15 minutes left.
Bottom line
From audio quality to phone calls, the SoundLink II headphones put it all together with style and grace.
At a Glance
Price: $280 (vendor price); $252 (Amazon price)
Pros: Excellent audio quality, support for NFC, 10-hour battery life, good microphone
Cons: Lacks noise reduction, slightly heavier than others
With their desktop charging stand and included USB Bluetooth dongle, the Plantronics Voyager Focus UC headphones are a good choice for business users, either in or away from the office.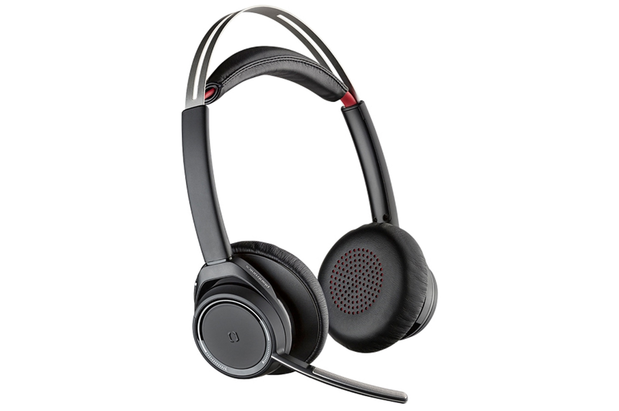 Plantronics Voyager Focus UC. Credit: Plantronics
At 5.4-oz., the Voyager Focus UC headphones, $300 (vendor price), weigh less than the SoundLink II. The flexible headband can be twisted, but pops right back into shape. The on-the-ear headphones, which are covered with leatherette pads, were comfortable enough but felt loose on my head; if I bent over or sneezed, I felt as if they would fall off (and they actually did a couple of times).
The desktop stand makes charging much easier. Just slip the ear cup with the microphone into the stand and the device begins to charge, although the stand's blue light doesn't change. The headphones are road-ready as well, with a micro-USB port for charging.
The Voyager Focus UC headphones also come with a travel case and a USB Bluetooth adapter for use with an older PC. Because they come with the Bluetooth dongle, Plantronics apparently felt that a USB-to-audio-in cable (or port) was not necessary.
The basic black color scheme is interrupted by a flat orange cable that is visible on either side of the padded part of the headband. You can replace the leatherette ear cushions for $10. They're not marked for right and left because the Voyager Focus UC's microphone is on a boom that can rotate between right and left orientation. In other words, it's ambidextrous.
Previous Page 1 2 3 4 5 6 7 Next Page