Review: 3 Bluetooth headphones for travel, work and play
These headphones from Audio-Technica, Bose and Plantronics offer private listening and calling for a reasonable price.
Getting the QuietPoint connected via Bluetooth took about two minutes. You have to hold the main button down for at least 10 seconds to put them into pairing mode; the LED blinks red and blue to show that the headphones are ready to pair. Pairing worked on the first try with all of my devices. On the downside, their range was limited to 25 feet, the shortest of the group.
Audio quality
With the ability to reproduce audio between 20 and 24,000 hertz, the QuietPoint headphones' sound quality was adequate, with surprisingly strong reproduction of spoken word programming and percussion in classical music. However, treble tones were over-accentuated so much that brass instruments were annoyingly hollow at times. And the headphones were lacking in the midrange tones, particularly when listening to rock, folk and jazz.
I tried the noise-cancellation feature, but couldn't discern any difference -- perhaps because earbuds don't do as good a job as on-ear or over-the-ear devices in isolating the user's hearing from the environment.
I was not impressed with the quality of the phone calls I made. Of the three it was the least loud, and voices on both ends of the conversation were distorted and weak. At times, phone calls sounded like they originated in a shower.
One place where the QuietPoint headphones excel is in battery life. In testing, they achieved 10 hours and 10 minutes of continuous playback with interruptions every hour to talk on the phone. That's 10 minutes longer than the SoundLink II and more than two hours longer than the Voyager Focus UC.
On the downside, there's only a single blinking-light warning when you're almost out of power -- too late to help if you're on the road.
Bottom line
The QuietPoint headphones are the least expensive, the lightest and the longest lasting of the three audio devices I tested. However, their audio quality was not rich enough for my taste.
At a Glance
Audio-Technica ANTH-ANC40BT QuietPoint
Price: $185 (Amazon price)
Pros: Reasonable price, airline seat jack adapter, over 10 hours of battery life
Cons: Short wireless range, inadequate battery gauge, adequate but not impressive audio
Bose is known for its audio quality and the SoundLink II headphones didn't disappoint, even though they are (for Bose) relatively inexpensive.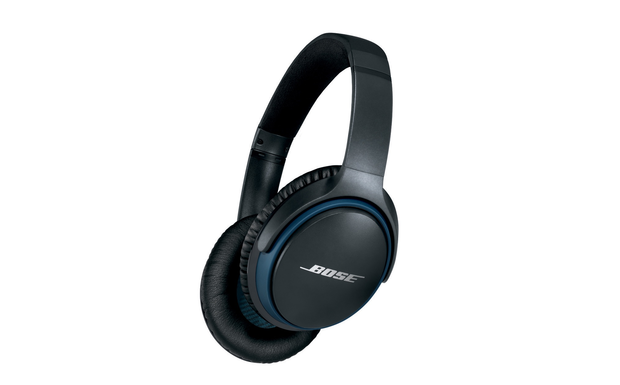 Bose SoundLink II. Credit: Bose
Made of hard plastic, the SoundLink II, $280 (vendor price), feel sturdy and well-made; they are available in blue and black or white and brown color schemes. The package includes a travel case, charging cable and a headphone cable for use with devices that aren't equipped with Bluetooth.
Previous Page 1 2 3 4 5 6 7 Next Page