Review: 3 Bluetooth headphones for travel, work and play
These headphones from Audio-Technica, Bose and Plantronics offer private listening and calling for a reasonable price.
Whether you're in seat 24B flying to Cincinnati, getting some work done in your local coffee shop or toiling away in a cubicle farm, headphones are essential equipment if you don't want to bother -- or be bothered by -- those around you.
I decided to try out three recent Bluetooth headphones that were light enough to carry along with you, good enough so that you could enjoy your music and carry on a business conversation, and something other than stratospherically priced.
These are actually three different types of headphones. The Audio-Technica QuietPoint unit is billed as in-ear headphones -- what many people call earbuds, but with more electronics than most of the cheap earbuds on the market. The Focus UC is a set of on-ear headphones; they rest on your ears without surrounding them. The Bose SoundLink II is more traditional; as over-the-ear headphones, they completely cover the ears. All three include built-in microphones, so they can be used for phone calls as well.
In today's busy and noisy environment, it's often helpful -- in fact, liberating -- to be able to shut out the world and use your favorite music to help you concentrate. These headphones offer the freedom to listen to your favorite audio tracks without disturbing others, while being ready to take or make a call.
Audio-Technica ANTH-ANC40BT QuietPoint
The Audio-Technica in-ear QuietPoint headphones are seductively small, light and inexpensive.
At only 1.2 oz., the QuietPoint headphones, $185 (Amazon price), are featherweight compared to the 7-oz. SoundLink II or the 5.4-oz. Voyager Focus UC. They come with a drawstring bag, a USB charging cable (but no AC adapter) and a micro-USB-to-headphone jack cable so that you can use them with non-Bluetooth devices. They also include an old-style double-jack airline headphone adapter.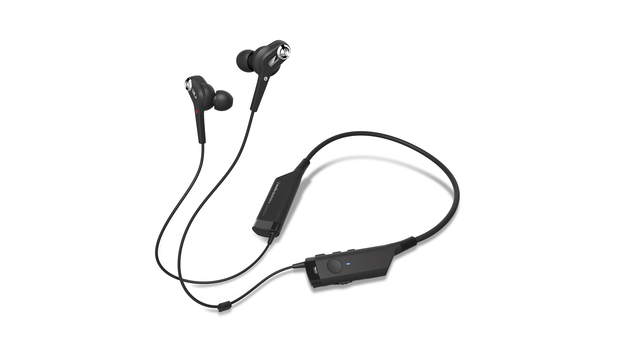 Audio-Technica ANTH-ANC40BT QuietPoint. Credit: Audio-Technica
On its website, Audio-Technica describes QuietPoint as headphones, but since the earpieces go into the ear, they're probably better classified as a set of upgraded earbuds. The device has a neckband that holds the electronics; at each end of the band is a 2.5-in.-long module and a thin 9.5-in. cable that connects each earbud.
The left module has the system's microphone and controls. There's a prominent power button for turning it on and pairing it to a phone, tablet or PC as well as an LED. There are also buttons for increasing and decreasing the volume, taking a call and turning the noise-cancellation circuit on and off. It uses a micro-USB port for charging the battery.
The QuietPoint headphones come fitted with medium-size silicone ear inserts along with a small bag containing sets of extra small, small and large inserts. Once I had the right size, I found that the earbuds stayed in, even if I shook my head. The unit felt light and the buds fit well, but I found it hard to get used to the neckband.