Razer Man O' War review: This pillowy headset is almost as mighty as its name
Razer gets most things right with the Man O' War.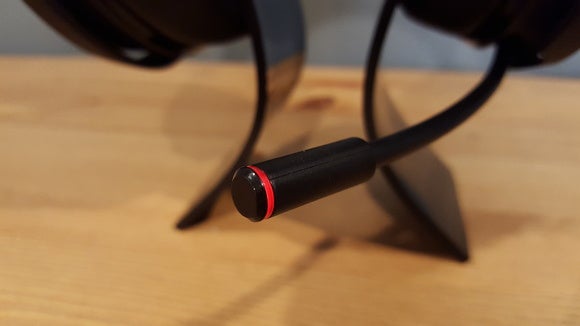 You can also click either wheel inward to mute its respective source. Doing so with the mic wheel illuminates a red LED band around the end of the retractable-and-bendable microphone—again, very similar to the SteelSeries Siberia Elite. It's a winning design, though. Bright enough that you can see it, subtle enough to not be distracting. Much better than the tiny LEDs on Corsair's Void Wireless.
The wireless dongle is a stubby USB receiver that would be bound to get lost, if not for the fact it cleverly slots inside the bottom of the right earcup. It sits flush but pops out when you push on it. Smart.
Finally, like all modern-era Razer products, the Man O' War features RGB lighting, configured through its Synapse software. It's subtle on this headset though, with only the Razer logo illuminated on each earcup.
Thar she blows
I'm impressed with the Man O' War's sound, too. It's not the best headset I've heard—not even in its division, as I think the similarly priced (and also wireless) Logitech G933 just edges it out. But you could do a lot worse.
To touch on specifics, the Man O' War is a moderately bright headset in its default state. There's not much of a bass punch to it, especially when listening to music. Instead, you get crystal-clear mids and crisp highs—similar to the approach taken by Corsair with both the H2100 and Void Wireless. But there are two aspects of the Man O' War that elevate it in my esteem.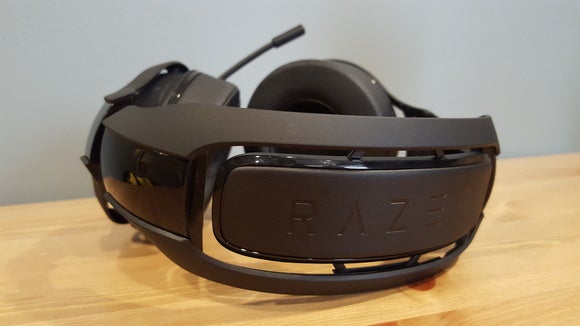 The first is that there's a lot of headroom in the EQ. In its default state, the Man O' War sounds okay. Tweak the bass and the highs, though, and you've got an entirely different headset. You can do so by way of Synapse, either through Razer's "Bass Boost" setting or by creating your own full-blown EQ profile.
With a lot of headsets, you can tweak the EQ and barely notice a difference. With the Man O' War, even small adjustments transform the sound. I ended up running the "Rock" EQ setting for most music listening, with the bass rolled off slightly, and the headset's sound really popped. Though I will say, it's a bit baffling that this gaming headset ships with EQ settings named after music, not games.
The second is that the directionality on the Man O' War is excellent. I haven't heard a gaming headset with this much roominess to its sound since the original HyperX Cloud, and listening to a good stereo-mixed music track on this headset is a treat. All of the instruments break out into their proper placements, and there's a ton of width between the furthest-left and furthest-right sounds.