Razer BlackWidow Ultimate 2016 Edition review: The small improvements that matter
Razer's 2016 BlackWidow Ultimate is the epitome of an incremental upgrade. And that's totally fine.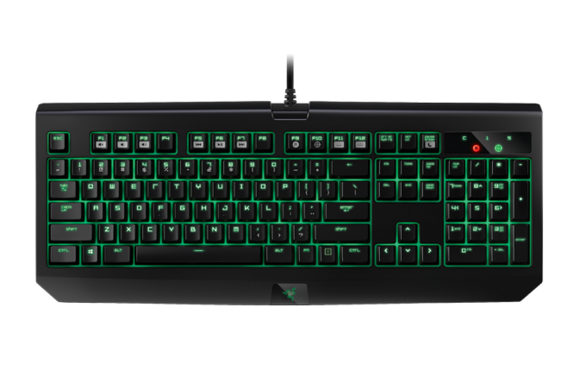 The Razer BlackWidow Ultimate 2016 Edition is the epitome of an incremental upgrade—and that's absolutely fine. Take the totally competent keyboard we saw in 2014, make a couple of smart tweaks, and put it back on the market.
Voila, you're done.
Familiar faces
So what are those smart tweaks? I've identified two small but notable changes. Namely, no macro keys and a refined Num Lock / Caps Lock / Game Mode indicator tray.
Per the first: The 2014 BlackWidow Ultimate (and RGB-enabled BlackWidow Chroma) had a column of five macro keys arrayed down the left side of the board. They're gone. There are no dedicated macro keys on the 2016 BlackWidow Ultimate.
That's surprising, given how long macro keys have been a standard feature on gaming keyboards. For Razer—which made its name on gaming peripherals—to eliminate them means it's following a trend I've noticed lately: Manufacturers are moving toward more refined, all-purpose designs. High-end, even.
What do I mean? Sleek. Black. Something you could probably use in the office without raising an eyebrow. This seems to be the latest design mantra for everyone from Razer to Logitech to Corsair. The days of the twenty-button mouse and "extreme" peripherals are over.
Personally, I'm a fan. Barring the pervasive neon-green backlighting of the 2016 BlackWidow, this looks like your average, everyday keyboard. The typeface etched into each keycap is maybe still a bit too "Video Games!", but otherwise this peripheral is one of Razer's most professional-looking devices.
Who would've guessed so much could be gained from eliminating five keys?
Aside from ditching dedicated macro keys, the 2016 BlackWidow also overhauls the Caps Lock indicator panel in the top right. Well, the Caps Lock / Num Lock / Scroll Lock / Game Mode / Macro Recording panel. On both the 2014 BlackWidow and the BlackWidow Chroma, Razer finished this panel with some sort of translucent plastic. The idea seemed to be that you couldn't see the indicators there until you turned one on.
Unfortunately, reality didn't quite match the concept. Illuminating Caps Lock or Game Mode or whatever caused a faint, blurry icon to appear. The "C" for Caps Lock was barely legible, the "M" for Macros looked like a busted McDonald's sign, and the fuzzy "G-inside-crosshairs" (Game Mode) gave the impression that you should buy a better keyboard.
Someone's been listening to my complaints, because the 2016 BlackWidow Ultimate has a more standard light-up inset instead of the 2014 model's translucent plastic. Now each icon is precisely stenciled and backlit, and the whole keyboard benefits. Again, it looks sleek and professional.
Well, mostly sleek and professional. Maybe Razer could ditch the "G-inside-crosshairs" icon. But I'll leave that for the 2018 BlackWidow Ultimate to rectify.