Polk Striker Pro P1 review: Strong headphones, subpar headset
Claims that this headset is made for the PC are unfounded.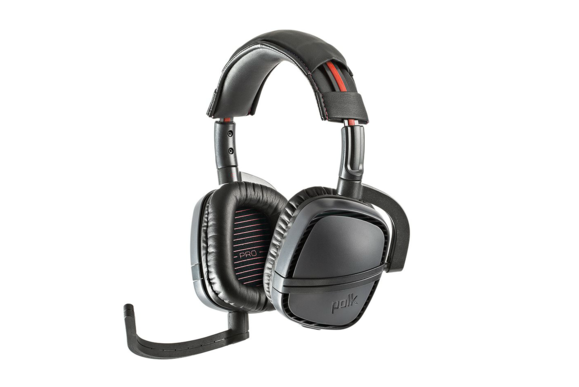 Aside from that, the Striker Pro P1 sounds great. Again, Polk's pedigree in non-gaming audio serves them well here. I typically assume you want to use one device for all your headphone and headset needs, and the Striker Pro P1 has a warm low-end boost that strikes a decent balance between "good for games" and "good for music"—which is what I tend to look for. It's an all-around upgrade from the 4 Shot, at least as far as PCs go.
Buuuut...there is more work to be done.
Cable conundrum
Polk makes a great pair of headphones and a subpar everything else. I assume that's due to the company's roots in the consumer audio world, and a lack of understanding about what people are looking for in a gaming headset.
It's a shame, because we could really use some headsets with quality audio and a more minimalist design—aka Polk's strengths.
The Striker Pro P1 has major issues, though. For instance, its three cables (one for mobile, one for PC, and one for the PlayStation). All of them are coated in cheap rubber, which belies the quality of the headset itself. The cabling is thin and dainty, like I'd expect on a $20 pair of earbuds. Or street-wear headphones. At a desk, I'd much prefer a slightly thicker cable or, even better, a fabric sheath like we got on the 4 Shot's Pro mic.
Worse still, Polk neglected in-line controls again. With the designed-for-Xbox 4 Shot, it was an annoyance, but one I understood. The 4 Shot was built to take advantage of the Xbox One's previously requisite chat accessory.
But the Striker Pro P1? It's ostensibly for use with the PC, but has no useful volume controls on the headset or cable. There is a second cable with an in-line control box, but it's intended for the PS4. You could maybe use it with a laptop, where the microphone port is always in reach, but not if you're plugging the headset into the back of your desktop, like I am.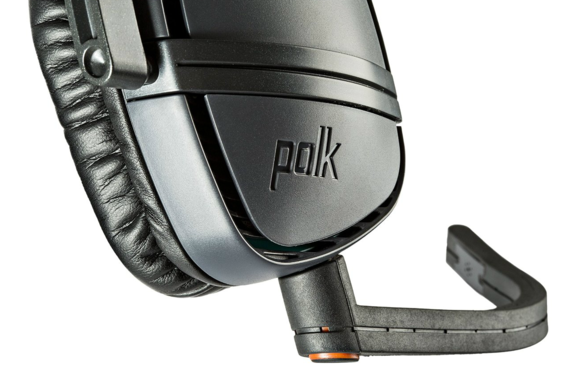 The little red Mute button on the bottom of the mic is your only in-line control.
There's a built-in Mute button on the mic, which is at least an improvement of sorts over the 4 Shot's ridiculous lack of mute. Still, the lack of easily accessible volume controls was a constant annoyance while gaming.
Back to the microphone for a bit: The Striker Pro P1 rectifies the horrible crosstalk issues that plagued the 4 Shot and its trifecta of shoddy mics. Rather than emulating the built-in design of the 4 Shot, the mic is now a semi-flexible and removable boom, like the 4 Shot's last-ditch Pro mic.