Polk Striker Pro P1 review: Strong headphones, subpar headset
Claims that this headset is made for the PC are unfounded.
Way back when I reviewed the Polk 4 Shot, I said that I wanted a headset with the 4 Shot's internals but with the PC in mind. The 4 Shot was a great pair of mid-tier headphones, but it wasn't an ideal gaming headset. A bevy of microphone issues and an Xbox-first design made it a wash on the PC.
Enter the Polk Striker Pro P1, which is currently available on Amazon. It's supposed to be a PC-friendly 4 Shot. It's not quite that, though.
Six-shooter
Polk doesn't hide the Striker Pro P1's similarities to the 4 Shot. While the baseline Striker P1 features rounded ears and a thick headband, the Striker Pro P1 uses the 4 Shot's squared-off earcups and a leather-covered strip of metal for the band. The hinges are a bit bulkier but are seemingly solid metal and extremely durable, especially compared to most competitors also priced at $100.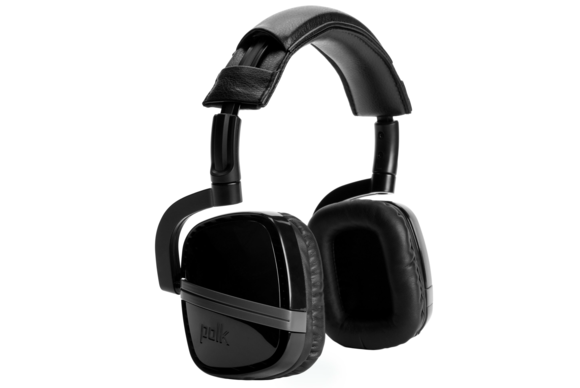 Here's the old Polk 4 Shot. The similarities to the Striker Pro P1 are obvious.
The 4 Shot's design was gorgeous—I said at the time that the "4 Shot looks more like street wear than your typical gaming headset"—and time hasn't hurt it any. Minimal branding, quality stitching, and small enough that you won't look like you accidentally time-traveled from the 1980s. The red highlighting is a bit stereotypical, but the understated blue-black used on the leather and metal makes up for it. Just a very classy-looking headset.
But given the similarities, it's no surprise the Striker Pro P1 also features the same flaws as the 4 Shot. Which is to say the earcups are really small. Yes, I just said that the small size was a positive. It is, insofar as you can wear it outside without someone pointing and laughing. This is a gaming headset though, and after a few hours of use I inevitably felt the creeping death that is sore ear cartilage, as they don't quite fit without touching at least one side.
The small earcups have repercussions during gaming, too. Because the Striker Pro P1 doesn't have much space between the drivers and your ears, you won't get a lot of sound directionality. Headsets like the HyperX Cloud create a space that mimics surround sound—even when they're just stereo headsets.
The Striker Pro P1 sounds flatter by comparison. All sound is equidistant, and you don't get much of a clue whether the sound is coming from the front, back, above, or below. This is truly just a simple two-speaker stereo experience.
That's not an issue if you're playing games where audio doesn't play a crucial role in tactics. You know, Civilization or Enter the Gungeon or Pillars of Eternity or what have you. Those who play a lot of Battlefield or Red Orchestra—shooters in general, really—will find it more detrimental.