Plextor M7V M.2 SATA SSD review: Not quite an 850 EVO, but also cheaper
It's a good everyday performer if you're not in the habit of writing large files.
AS SSD rated the drive as reading sequentially at 494MBps and writing at 336MBps with 10GB worth of data. That's slightly slower than the Samsung 850 EVO's 508MBps reading, but faster than the EVO's 319MBps writing. 4K/64-thread writes were a similar story. On the other hand, the M7V was significantly slower with the single-thread 4K writes at 59MBps, compared to the 850 EVO clocking 97MBps. Single-thread 4K reads were also slower at 23MBps, compared to 36MBps.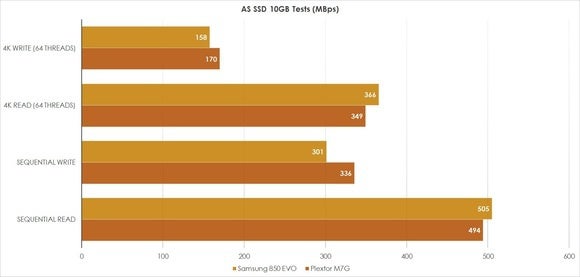 AS SSD 4K 64 thread and 10GB sequential test results.There's little difference between the M7V and 850 EVO.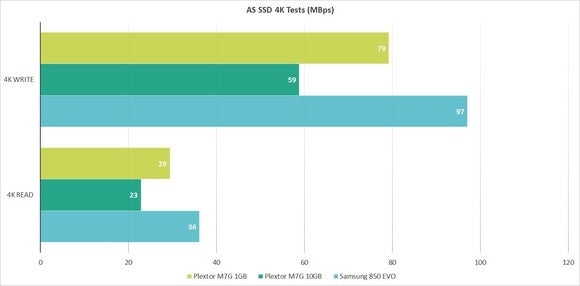 Single 4K write speeds as indicated by AS SSD. We included the 1GB test to show an unusual drop-off between the 1GB and 10GB test sets.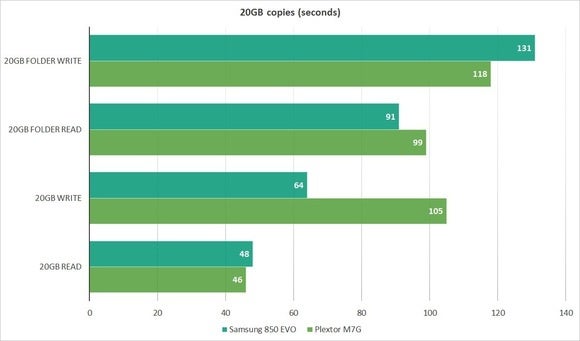 20GB read and write tests. Aside from the large file write, where the M7V ran out of cache sooner, performance is comparable.
Where the differences between the EVO 850 and the M7V became more apparent were in our 20GB read and write tests. The M7V's write rate fell off significantly at the 10GB mark when it ran out of cache, but there was also a large momentary drop-off earlier. Subsequent to the drop-off, speeds varied considerably where the EVO 850's performance remains relatively flat.
Copying our 20GB single large file to the M7V resulted in an extremely inconsistent operation with all sorts of dips and peaks. Cache ran out after about 10GB.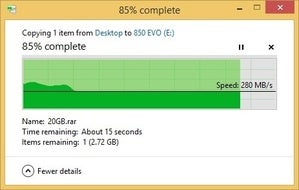 This shows writing a 20GB file to a 256GB Samsung 850 EVO. There's one drop after the cache is emptied, but performance is consistent after that.
The climbing and dipping is most likely interaction between the main body of NAND and the cache. It could be a choice to wring every ounce of performance out of the drive, or poor regulation. Only time and driver or firmware updates will tell. The MG7 gets the job done, it just does it oddly.
Plextor also bundles its PlexTurbo software which dedicates part of your system memory to caching data for the drive. It allows minor tweaking, but it's primitive compared to Samsung's similar RAPID software. I never recommend caching software for mission-critical applications, as loss of power can lead to losing any data that's stranded in the cache. It can also get in the way of certain drive-intensive applications. However, for everyday use, it can be sweet.