Plextor M7V M.2 SATA SSD review: Not quite an 850 EVO, but also cheaper
It's a good everyday performer if you're not in the habit of writing large files.
These days when it comes to affordable M.2 SATA drives, there's more to look at than just the Samsung 850 EVO. Plextor's SATA 6Gbps M7V SSD is considerably cheaper—and it actually bested its rival in one of our performance tests.
But a lower price tag often comes with compromise, and the M7V unfortunately follows suit. In other performance tests, it showed inconsistencies.

The only difference between the MG7 on retail shelves and the one we tested is that ours used a Samsung DRAM cache instead of the Nanya shown here.
Specs and warranty
The M7V is currently available in three capacities: 128GB for $50, 256GB for $71, and 512GB for $136. That's 39 cents, 28 cents, and 27 cents per gigabyte respectively. Pretty darn competitive. The drive comes in the 22x80mm form factor that's most common with M.2 drives of any ilk: That would be SATA in this case, but most PCIe/AHCI and PCIe/NVMe as well.
The M7V is also unusually thin, thanks largely to the high-density of its TLC NAND. Only one chip is required to provide 512GB of storage, leaving the opposite side of the PCB (printed circuit board) empty. You'll have no problem fitting two of these babies in a stacked M.2 slots, and there will be better air flow around them to ward off premature failure.
We were initially suspicious that the M7V actually was an 850 EVO, as the 1GB DRAM chip (used for buffering) on our test drive was labeled Samsung. However, peeling back the Plextor sticker next to it revealed a Marvell 88SS1074B1 controller and Toshiba 15nm NAND. Samsung's drives use the company's own controller and NAND. Lite-On owns the Plextor name so call this drive an international (Korea, Japan, Taiwan, and...) effort. Plextor's PR person informed me that the Nanya DRAM you see in the pictures now ships in place of the Samsung chip.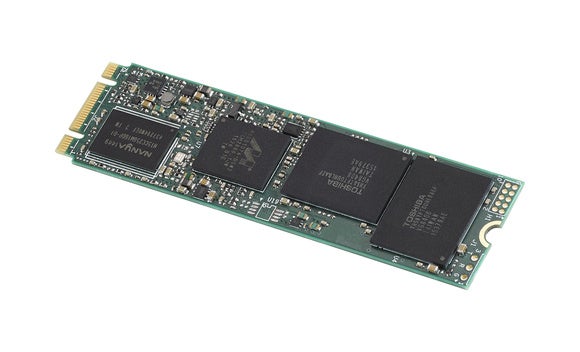 This is the only side of the M7V with chips, which leaves more room when stacked in double M.2 slots.
The M7V is warrantied for three years and/or 80TBW (terabytes written) for every 128GB of capacity. That's about par for the industry, whose representatives are constantly reminding me that these are very conservative estimates.
Performance
The areas where the M7V compared well to the 850 EVO were small file writes, as well as all types of reading. Both drives are based on TLC (triple-level cell/3-bit) NAND and drop to around 300MBps writing when the fast NAND cache (TLC treated as faster 2-bit MLC)) is exceeded. Plextor wouldn't tell me exactly how much NAND was treated as cache, but the point at which write speeds dropped off was at about the 10GB mark, or just around 2 percent of total capacity. The more common allocation is 2.5 percent of total capacity.