PDP Afterglow AG 9 review: This sub-$100 wireless headset has a lot going for it
You will have to stomach some compromises with this inexpensive wireless headset, though.
The AG 9 comes with two listening modes: "Pure Audio" and "Bass Boost." The Pure Audio setting isn't quite a flat response like you'd get from a decent pair of studio headphones, and the high end is a bit muted, but it's noticeably less bassy than any other gaming headset on the market. Even less than Polk's already-understated Striker Pro P1.
Of course, some people want that kick-in-the-teeth bass—especially for games. If that's your bag, you can switch to the AG 9's Bass Boost mode with the press of a button. It's not super pleasing, though. It sounds artificial and churns out distorted bass even at low volumes. The rattling of the drivers is less distracting in video games, where the bass is typically tied to big explosions, but in music it sounds criminal.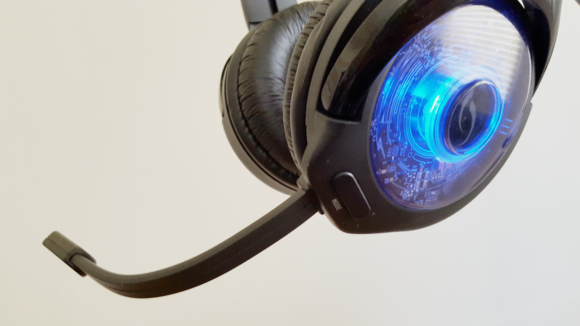 Don't touch this mode button. Just don't.
In short, stick to Pure Audio, unless you're a bass masochist or playing games where the distortion won't be distracting. Or adjust the EQ settings yourself in third-party software—I encountered fewer audio issues with that approach than using the Bass Boost mode.
As for the microphone, the AG 9 follows recent trends and includes a detachable boom mic. It's a mid-pack contender. Volume is a bit quiet and there's a telephone-esque rasp to the sound, but the mic gets the job done. Also appreciated is a generous amount of sidetone, aka being able to hear yourself in the headset. I prefer it as a feature, though I know others don't. The downside: There's no chat mixer on the headset, so if you don't like sidetone, you're out of luck.
Range and battery performance
PDP advertises the AG 9 with a range of 40 feet. Like most wireless devices, that's a theoretical maximum and not a guarantee of reality—especially if you live in a San Francisco apartment with plenty of solid walls and lots of spectrum interference. My testing topped out around 25 to 30 feet, with stability at that range slightly worse than with the Astro A50. That's still plenty of reach for your usual gaming/television usage, though. Plus, my apartment is basically a worst-case scenario for wireless devices. You can also go wired—either through charge-and-play wireless or 3.5mm line-in.
The AG 9's battery life does very well. Though I only got 12 out of the 16 hours PDP claims, that's still on par with top-end competitors. For comparison, I typically get 5 to 6 hours out of the A50, 8 to 10 out of Logitech's G933, and 12 or more out of the Razer Man O' War and Corsair Void Wireless. This is a headset that can go all day, provided you find it comfortable enough to wear that long.