PDP Afterglow AG 9 review: This sub-$100 wireless headset has a lot going for it
You will have to stomach some compromises with this inexpensive wireless headset, though.
For a long time, wireless gaming headsets were way overpriced. Take the Astro A50 and SteelSeries H: Sure, both had good audio and solid build quality, but they also each had a whopping $300 price tag. That's a pretty huge premium on untethered convenience.
But the low end of the market has been filling out, with new sub-$100 wireless headsets from numerous companies in the last year. One of those is Performance Driven Products' new version of its Afterglow headset—the AG 9, which is currently available on Amazon for well under a hundred bucks.
Setup experience
The AG 9 is easy enough to set up. It comes with a simple USB dongle transmitter, similar to Corsair's latest wireless headsets, that you plug in. That's it. If you see a blue light, it's connected. All controls are built into the headset: a mode select button, a volume wheel, and a combination mute/unmute/power button. The volume wheel isn't great—it's so small that I found it hard to locate with the headset on, but at least it exists.
Audio performance
Inexpensive wireless headsets are all about compromises. Some skimp on audio. Some on the microphone. Some on build quality.
The AG 9 falls into that last category.
I don't mean the design, though that's certainly going to be polarizing. True to its Afterglow branding, the AG 9 lights up like a signal fire in the night. I'm not sure when we'll hit the peak amount of LED lights on headsets, but the AG 9 does its best to set that bar. It gives the SteelSeries Siberia Elite Prism a run for its money.
The LEDs also come embedded under clear plastic, featuring exposed circuitry on one side and faux-electronics on the other. Some will probably like it, but it mostly reminds me of the old purple N64 controller. In other words, it's a bit too "Look at me, I play games" for my taste.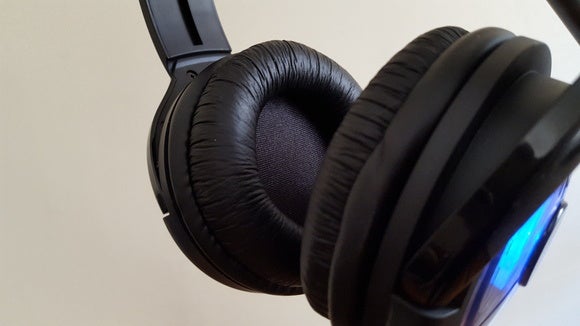 The AG 9's earcups aren't super comfortable—one of the trade-offs of its low price.
Aesthetics are subjective, though. Less subjective is that the AG 9 simply doesn't feel as comfortable or durable as similarly priced wired headsets like the HyperX Cloud. The earcups are covered in cheap-feeling leather, the headband in mesh, and the headset has a tendency to pinch inward on the jaw. It did loosen up a bit over time, but the weight of the earcups meant considerably more tension in the band than other sets I've worn.
But it's a sub-$100 wireless headset, so I soldiered on with a slightly sore jaw.
The takeaway? I don't think the AG 9 will win any awards, but its audio is decent enough for those who need to untether and are on a budget. And that is important to some people, what with the arrival of virtual reality and a greater need for wireless peripherals.