Nvidia's monstrous new Titan X graphics card stomps onto the scene, powered by Pascal
Meet the new Pascal-based Titan X, which is nothing like the old Titan X.
Nvidia's not providing any additional architectural details about the new "GP102" processor beating at the heart of the Titan X. ROP and texture-unit counts aren't being disclosed.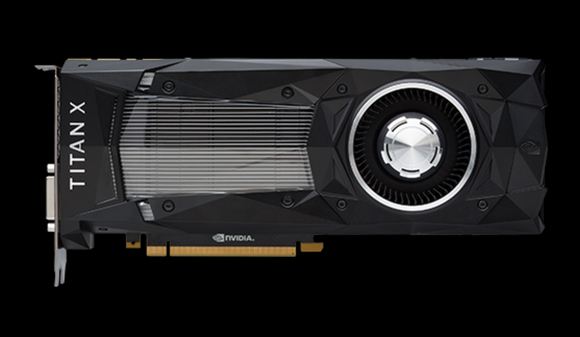 So what does that mean in terms of pure performance? Nvidia says the Titan X Pascal will offer 60 percent greater performance than the previous Titan X. Considering that the GTX 1080 offered 25 to 30 percent greater performance than the last-gen Titan X, the new Titan X will likely offer about 30 percent higher frame rates than the GTX 1080. While we won't know for sure until we get our grubby paws on the card, there's a pretty decent chance that the Titan X Pascal will be able to play many of today's top games at damned near 60fps with high settings at 4K resolution.
If that winds up being true, it'll be a major milestone. While the original Titan X, GTX 980 Ti, and Radeon Fury X can all play games at 4K, doing so often requires graphical compromise and a FreeSync or G-Sync monitor to smooth out a sub-60fps frame rate. And get this: You can run two Titan X Pascal cards in a single system with Nvidia's new SLI HB bridge—the hard bridge pictured below. That was a necessity for our Titan X SLI performance preview.
Despite pushing far more pixels, the Titan X Pascal still draws the same 250 watts of power as the original Titan X, sipping the juice through 8-pin and 6-pin power connectors. The two-slot card measures 10.5-inches long by 4.376-inches wide, and features the same connections as the GTX 1080: DVI-D, an HDMI 2.0b port, and three DisplayPort 1.4 connections. The new Titan features the same vapor chamber cooling with a blower-style fan as the GTX 1080, along with a similarly angular metal shroud—though the Titan X Pascal's is all black, rather than silver.
The Titan X Pascal also packs all the various new features rolled out with Pascal, including simultaneous multi-projection, asynchronous compute enhancements, the Ansel super-screenshot tool, Fast Sync, GPU Boost 3.0, and more. You can read about all of the Pascal GPU's fresh goods in detail in our GTX 1080 review.
Price and availability
Though it's pretty safe to say that the Titan X Pascal will be a beast of a gaming card, I'd recommend—as always—holding off on buying one until you're able to read in-depth reviews of its performance.