Nvidia's GeForce GTX 1060 is a $250 GTX 980 killer
The GeForce GTX 1060 is Nvidia's answer to AMD's Radeon RX 480.
Nvidia's making a couple of announcements on that end. Ansel will make its debut in July with support added to The Witcher 3 and Mirror's Edge Catalyst, two gorgeous open-world games that will no doubt showcase what the tool is capable of. Mirror's Edge's Ansel support is actually going live today. Likewise, Nvidia's free Funhouse VR demo will hit Steam this month, loaded will all sorts of Nvidia VRWorks tech. (Try shooting the water guns into the sky and catching the liquid on your face!) Nvidia plans to open-source the demo so that developers can make Funhouse attractions.
And yes, it'll all work on the GTX 1060. Many more games are working to integrate both Ansel and simultaneous multi-projection over the coming months.
A closer look at the GeForce GTX 1060
That's all the concrete info Nvidia's indulging today, but the company dropped a GeForce GTX 1060 in my hands more than a week ago, and examining its physical construction reveals a few more interesting tidbits. For an even deeper dive into the design—inside and out—check out our GeForce GTX 1060 first look.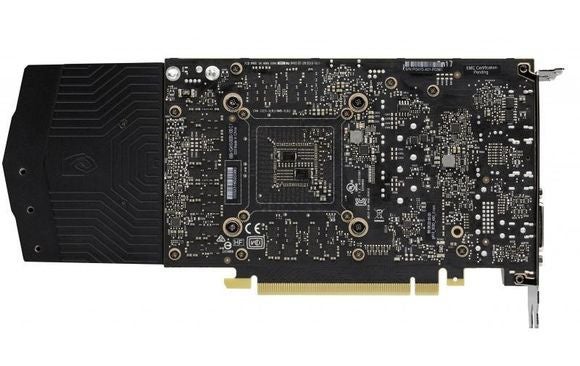 Similar to what we noticed with the RX 480's visual preview, the GeForce GTX 1060's circuit board is small—only about seven inches long, which is roughly equal to the RX 480's PCB and a mere inch longer than the remarkably tiny Radeon Nano. That portends a potentially exciting future for itty-bitty mini-ITX GTX 1060 variants, especially since Gigabyte's already managed to cram the more powerful GTX 1070 into a mini-ITX form factor.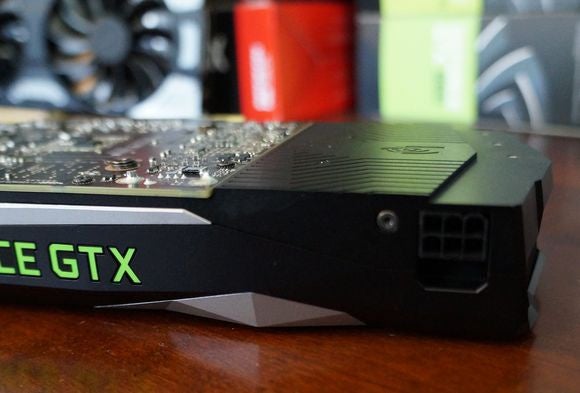 Brad Chacos
Also like the Radeon RX 480, the GTX 1060's a full-length dual-slot graphics card despite its shrunken PCB. The final quarter of the card is pure fan and shroud—almost. Interestingly enough, Nvidia still slapped the 6-pin power connector on the end of the card's edge, and not on the PCB itself. That may make aftermarket water cooling tricky.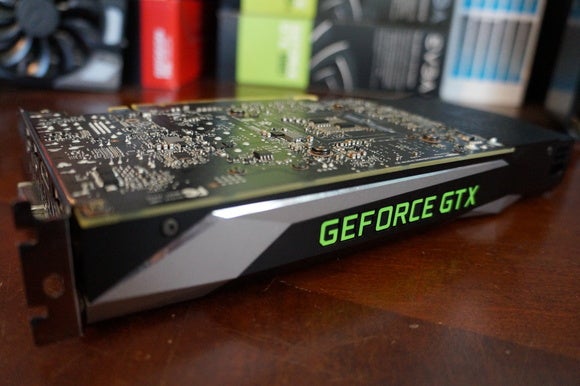 What's important here is what you don't see.
But more crucially, there aren't any connectors for Nvidia's fancy new SLI bridge on the GTX 1060. That probably has less to do with Nvidia's tightening of the multi-GPU belt than sheer economics. Dual GTX 980s outpunch the $600-plus GeForce GTX 1080. If the $250 GTX 1060 indeed out performs the GTX 980, you'd be able to pick up a pair of them for just $500—instantly undercutting the GTX 1080's market position despite the questionable future of multi-GPU support in games.