Nvidia's GeForce GTX 1060 is a $250 GTX 980 killer
The GeForce GTX 1060 is Nvidia's answer to AMD's Radeon RX 480.
Nvidia's more modestly priced graphics cards often roll out months after the more luxurious GeForce models. Look at the last generation: The GeForce GTX 960 debuted four months after the GTX 980 and GTX 970 exploded onto the scene. A few generations before that, the GTX 660 launched a full half-year after the GTX 680.
But not the GeForce GTX 1060.
Nvidia announced its new sweet-spot graphics card Thursday morning, a mere month after the launch of the GTX 1080 and GTX 1070, and hot on the heels of AMD's surprisingly powerful, shockingly cheap Radeon RX 480—which no doubt spurred the speedy release.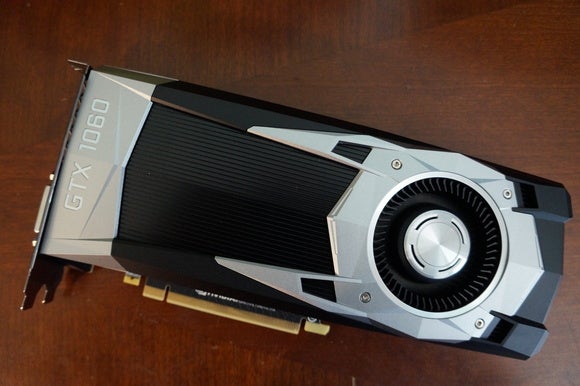 And get this: The GTX 1060 is even faster than AMD's $200 stunner and Nvidia's former $500 flagship, the GTX 980, but still won't break the bank at $250 (or $300 for the pictured Nvidia Founders Edition).
Nvidia's new 16nm Pascal-based GP106 graphics processor beats in the heart of the GeForce GTX 1060. It packs 1280 CUDA cores—down from the GTX 1070's 1920—and builds upon the same engineering tricks that lets its bigger cousins hit insane clock speeds, boosting up to 1.7GHz when extra oomph is required.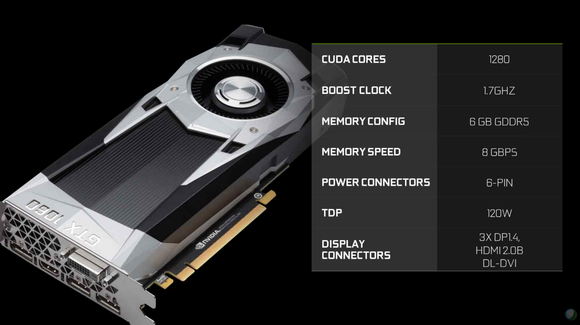 Click on any image in this article to enlarge it.
Much like AMD's RX 480, the GTX 1060 can power the Oculus Rift and HTC Vive headsets despite its relatively low cost, and Nvidia loaded the card with memory to help maintain smooth frame rates in both virtual reality and demanding games played at 2560x1440 resolution. While the GTX 1060 doesn't utilize the cutting-edge GDDR5X found in the GTX 1080 (which costs $600), the card features 6GB of GDDR5 memory clocked at 8Gbps. Nvidia's new card sports the same HDMI 2.0b port and trio of DisplayPort 1.4 connections as the other GTX 10-series GPUs to ensure compatibility with VR headsets and ultra-high resolutions alike, along with a DVI-D (not DVI-I) port for lower cost displays.
Nvidia's also maintaining its efficiency lead with the GTX 1060. While AMD's 150-watt RX 480 essentially equaled the older GTX 970 in both performance and power draw—and pulled an excessive amount of juice from the motherboard to do so—the GTX 1060 sips a mere 120W over a single 6-pin power connection.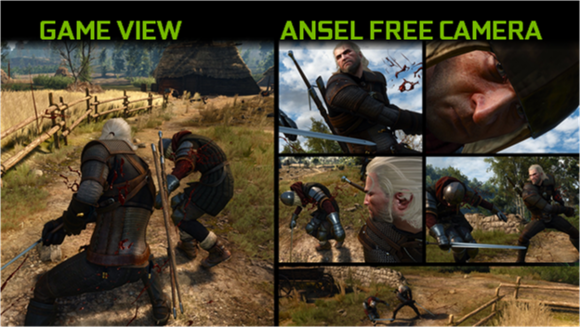 The GTX 1060 supports the same new bells and whistles as the higher-priced cards, including enhanced asynchronous compute features, simultaneous multi-projection, and the killer-looking Ansel 3D screenshot tool, which I personally can't wait to try out as an enthusiastic Dead End Thrills-wannabe.