Nvidia GeForce GTX 1080 review: The most badass graphics card ever created
Hail to the new king of graphics cards, baby.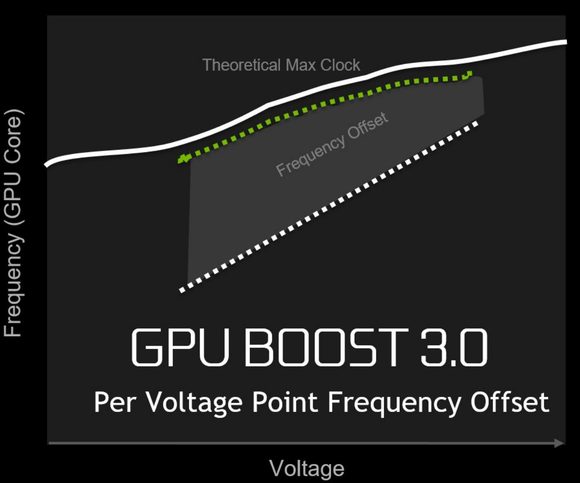 Nvidia supplied reviewers with an early, mildly janky copy of a new EVGA Precision X build that supports GPU Boost 3.0, and finding then pushing your card's limits proved pretty straightforward. Settings let you choose the minimum and maximum clock speed offset to test, as well as the "step" value, or how much the clock frequency increases from one offset to the next. After my card repeatedly crashed with Precision X's normal OC scanner settings, decreasing the step value increase from 12.5MHz to 5MHz calmed things down—but also caused the scan session to become abominably slow.
If I'd had time to let it run in full, I would've been left with a highly granular overclocking profile specific to my individual GPU. But because the tool landed my hands late in the testing process, I went the manual route, overclocking the GPU by hand with a copy of the Unigine Heaven benchmark. I'll share the final results in the performance section.
HDR and DRM support
The GeForce GTX 1080 continues Nvidia's tradition of supporting technology built for home theater PCs. After the GTX 960 and 950 became the first major graphics cards to support HDCP 2.2 for copyrighted 4K videos over HDMI, the GTX 1080 embraces high dynamic range video technology, a.k.a. HDR. HDR displays boost brightness to create more range between darkness and light. As simple as it sounds, the improvement in visual quality is borderline startling—I think the difference between HDR and non-HDR displays is much more impressive than the leap from 1080p resolution to 4K displays. AMD's Polaris GPUs will also support HDR.
Pascal GPUs support HDR gaming, as well as HEVC HDR video encoding and decoding. Pairing the GTX 1080 (and its HEVC 10b encoding abilities) with an Nvidia Shield Android TV console (and its HEVC 10b decoding abilities) enables another nifty trick: GameStream HDR. Basically, you can stream a PC game from your Pascal GPU-equipped computer to your TV via the Nvidia Shield, and because both devices support HDR, those deep, deep blacks and vibrant colors will appear on your television screen just fine. It's a smart way for Nvidia to leverage its ecosystem and skirt around the fact that HDR display support is limited to traditional televisions right now, though it won't roll out until later this summer.
Currently, Obduction, The Witness, Lawbreakers, Rise of the Tomb Raider, Paragon, The Talos Principle, and Shadow Warrior 2 are the only games with pledged HDR support, though you can expect more titles to embrace the technology as hardware support for it becomes more widespread.
Previous Page 1 2 3 4 5 6 7 8 9 10 11 12 13 14 15 16 Next Page