Nvidia GeForce GTX 1080 review: The most badass graphics card ever created
Hail to the new king of graphics cards, baby.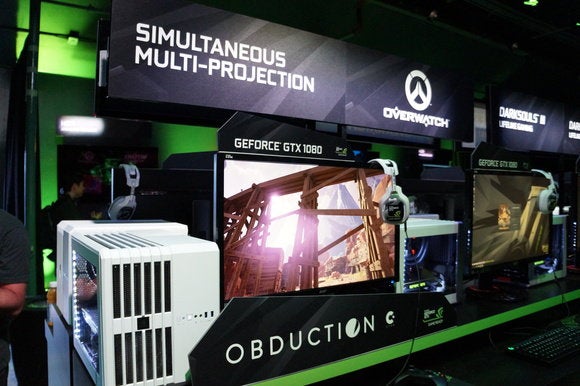 Obduction's single-screen demo of simultaneous multi-projection frame rate benefits. Credit: Brad Chacos
Interestingly, lens-matched shading can also be used to improve overall frame rates even on traditional single-display setups. In a single screen demo of Obduction, Cyan Worlds's upcoming spiritual successor to Myst, frame rates hovered around 42fps in a particular scene with SMP disabled at 4K resolution. Activating SMP caused frame rates to leap to the 60fps maximum supported by the display, and you could only notice the reduced pixel fidelity at the edges of the display if you were standing still and actively looking for blemishes.
Simultaneous multi-projection is fascinating, potentially portentous stuff—and that's why it's a major bummer that developers have to explicitly add support for it, and it works only on GeForce cards running on Pascal GPUs. It's a killer selling point for the GTX 1080, but whether games will support a feature that excludes every graphics card sold up until today is a big question mark.
Ansel: The supercharged future of screenshots
Speaking of super cool features limited to Nvidia's new graphics cards, there's Ansel, which Nvidia calls "an in-game 3D camera" and I call the supercharged future of screenshots.
Rather than simply capturing a 2D image like Steam's F12 functionality, Ansel lets you pause a game, then freely roam the environment with a floating camera (though developers will be able to disable free roaming in their games if desired). You're able to apply a several filters and effects to the scene using easy-to-use tools, as shown in the image below, as well as crank the resolution to ludicrous levels. Nvidia plans to release more filters as time goes on, plus a post-processing shader API so developers can create custom filters.
In a demo of Ansel running on The Witness, for example, I was able to jack the resolution to a whopping 61,440x34,560. Out of the box, the tool can support up to 4.5-gigapixel images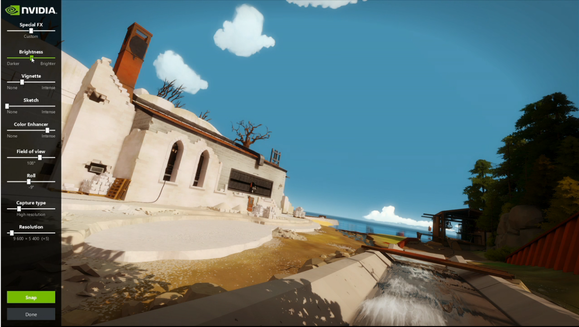 Nvidia's Ansel will give you the ability to take a Kodak moment in a video game.
Creating a masterpiece like that takes Ansel several minutes to stitch together files of considerably large size, however. Ansel snaps up to 3,600 smaller images to capture the entire scene—including 360-degree pictures that can be viewed in a VR headset or even Google Cardboard—and processes them with CUDA-based stitching technology to create a clean, final picture that doesn't need any additional lighting or tone-mapping tweaks. It's also capable of capturing RAW or EXR files from games, if you feel like tinkering around in HDR.
Previous Page 1 2 3 4 5 6 7 8 9 10 11 12 13 14 15 16 Next Page