Nvidia GeForce GTX 1080 review: The most badass graphics card ever created
Hail to the new king of graphics cards, baby.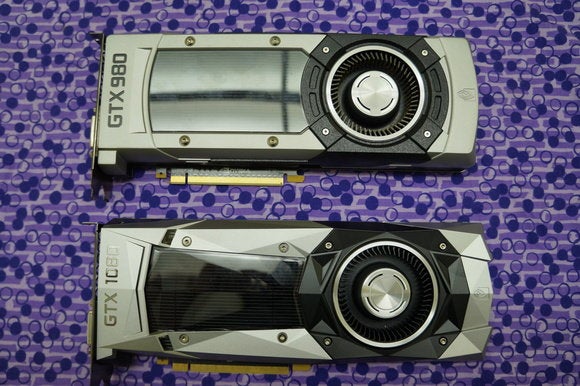 The GTX 1080 (bottom) sports a more angular design than the GTX 980 (top). All the angles are more noticeable under direct light. Credit: Brad Chacos
But previous-gen Nvidia reference cards were paragons sold at a loss only during the first few weeks around launch in order to kickstart adoption of new GPUs. Nvidia plans to sell its Founders Edition cards for the GTX 1080's lifetime. That lets Nvidia faithful buy directly from the company and allows boutique system sellers to certify a single GTX 1080 model for their PCs over the lifetime of the card, rather than worrying about the ever-changing specifications in product lineups from Nvidia partners like EVGA, Asus, MSI, and Zotac. In fact, Falcon Northwest owner Kelt Reeves told HardOCP that he actively lobbied Nvidia to create these cards for just that reason.
You'll probably be able to find graphics cards from those board partners rocking hefty overclocks, additional power connectors, and custom cooling setups for the same $700 price as Nvidia's Founders Edition once the GPU starts rolling out en masse. In other words, the Founders Edition probably won't be a worthwhile purchase going forward if sheer price-to-performance is your major concern. But that $100 premium is steep enough to keep EVGA and its ilk from getting pissed about the newfound direct competition from Nvidia, while still allowing Nvidia to satisfy system builders.
But enough chit-chat. It's time to see how badass this beast really is.
Testing the GTX 1080
As ever, we tested the GeForce GTX 1080 on PCWorld's dedicated graphics card benchmark system, which was built to avoid potential bottlenecks in other parts of the machine and show true, unfettered graphics performance. Key highlights of the build:
Along with upgrading the test system to Windows 10, we also updated our list of benchmarking games with a healthy mix of AMD Gaming Evolved and Nvidia-centric titles, which we'll get into as we dive into performance results.
To see what the GTX 1080 Founders Edition is truly made of, we compared it against the reference $500 GTX 980 and $460 MSI Radeon 390X Gaming 8GB, and also the $650 Radeon Fury X and $1,000 Titan X. Because the GTX 980 Ti's performance closely mirrors the Titan X's—and Nvidia made a point to repeatedly compare the GTX 1080 against the Titan X—we didn't test that card. Sadly, AMD never sent us a Radeon Pro Duo to test, so we can't tell you whether the GTX 1080 or AMD's dual-Fiji beast is the single most powerful graphics card in the world.
Previous Page 1 2 3 4 5 6 7 8 9 10 11 12 13 14 15 16 Next Page