Nvidia GeForce GTX 1080 review: The most badass graphics card ever created
Hail to the new king of graphics cards, baby.
"It's insane," Nvidia CEO Jen-Hsun Huang proudly proclaimed at the GeForce GTX 1080's reveal, holding the graphics card aloft. "The 1080 is insane. It's almost irresponsible amounts of performance… the 1080 is the new king."
He wasn't joking. The long, desolate years of stalled GPU technology are over, and this beast is badass.
A giant leap for GPU-kind
As wondrous as it is, the outrageous performance leap of the GTX 1080 (starting at $599 MSRP, $699 Nvidia Founders Edition reviewed) doesn't exactly come as a surprise.
Faltering graphics processor process technology left graphics cards from both Nvidia and AMD stranded on the 28-nanometer transistor node for four long years—an almost unfathomable length of time in the lightning-fast world of modern technology. Plans to move to 20nm GPUs fell by the wayside due to technical woes. That means the 16nm Pascal GPUs beating inside the GTX 1080's heart (and AMD's forthcoming 14nm Polaris GPUs) represent a leap of two full process generations.
That's nuts, and it alone could create a big theoretical jump in performance. But Nvidia didn't stop there.
Pascal GPUs adopted the advanced FinFET "3D" transistor technology that made its first mainsteam appearance in Intel's Ivy Bridge computer processors, and the GTX 1080 is the first graphics card powered by GDDR5X memory, a supercharged new version of the GDDR5 memory that's come standard in graphics cards for a few years now.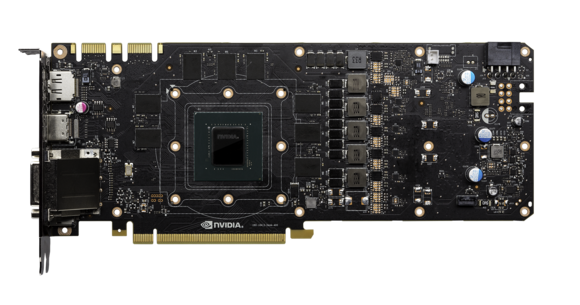 The front PCB of the GeForce GTX 1080.
On top of all that, Nvidia invested significantly in the new Pascal architecture itself, particularly in tweaking efficiencies to increase clock speeds while simultaneously reducing power requirements, as well as many more under-the-hood goodies that we'll get to later—including enhanced asynchronous compute features that should help Nvidia's cards perform better in DirectX 12 titles and combat a major Radeon advantage.
Oh, and did I mention all the new features and performance-enhancing software landing alongside the GTX 1080?
Let's kick things off with an Nvidia-supplied spec sheet comparison of the GTX 1080 vs. its predecessor, the GTX 980. (Side note: The mere fact that the company's comparing the GTX 1080 directly against the GTX 980 is noteworthy. Usually, GPU makers compare new graphics cards against GPUs two generations back in review materials. The GTX 960 was compared against the GTX 660—not the GTX 760—in Nvidia's official materials, for example.)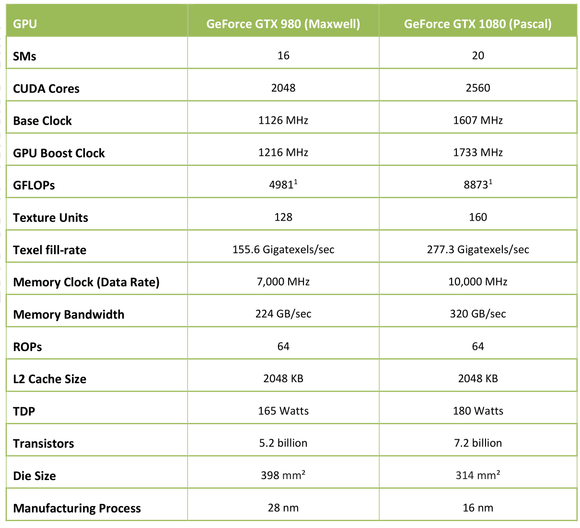 Here, some of the benefits to switching to 16nm jump out immediately. While the "GP104" Pascal GPU's 314mm2 die size is considerably smaller than 398mm2 die in the older GTX 980, it still manages to squeeze in 2 billion more transistors overall, as well as 25 percent more CUDA cores—2560 in the GTX 1080, versus 2048 in the GTX 980.
1 2 3 4 5 6 7 8 9 10 11 12 13 14 15 16 Next Page