Nvidia GeForce GTX 1070 review: The new people's champion topples Titans
Nvidia's GeForce GTX 1070 is one hell of a graphics card, delivering Titan X-level performance at a price real gamers can afford.
The GTX 1070 also supports HDCP 2.2 for transmitting protected 4K content over HDMI, Microsoft's PlayReady 3.0 DRM for streaming 4K content to PCs, and high dynamic range video technology, including HEVC HDR video encoding and decoding.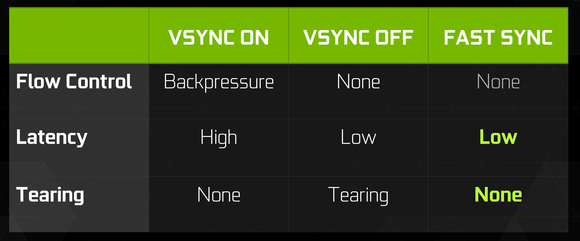 Fast Sync versus Vsync on and Vsync off.
Nvidia's new graphics card will also support the powerful Ansel "in-game 3D camera" when games begin supporting the supercharged screenshot tool later this year. Other notable Pascal additions include GPU Boost 3.0, which can scan the overclocking capabilities of your GPU at different voltages to create a custom overclocking profile tailored to your individual card, and Fast Sync, which uses frame buffering tricks to eliminate screen tearing with a microscopic latency hit in games where your GPU is pumping out hundreds of frames per second—far more than your monitor can actually display. That's more for use in DirectX 9-based e-sports titles like League of Legends, Dota 2, and Counter-Strike: Global Offensive, though.
Want to know more about Ansel, Fast Sync, GPU Boost 3.0, or the GTX 1070's HDR and streaming content support? We dig into all four technologies on page three of the GTX 1080 review.
But enough chit-chat! It's time to put the GTX 1070 to the test.
Nvidia GeForce GTX 1070 performance benchmarks
We tested the GeForce GTX 1070 on PCWorld's dedicated graphics card benchmark system, which was built to avoid potential bottlenecks in other parts of the machine and show true, unfettered graphics performance. Key highlights of the build:
To see what the Nvidia GeForce GTX 1070 Founders Edition is truly made of, we compared it against several different cards. The $328 EVGA GTX 970 FTW was a no-brainer, along with the $325 Sapphire Nitro R9 390, as those are the GTX 1070's direct previous-generation peers. Since Pascal's 16nm FinFET leap represents a big performance boost, we also benchmarked the reference GTX 980, the $460 MSI Radeon 390X Gaming 8GB, and the $650 Radeon Fury X, as well as the $1,000 Titan X—the latter being a performance rival that Nvidia specifically called out during the GTX 1070's reveal. Because the GTX 980 Ti's performance closely mirrors the Titan X's, we didn't test that card.
Previous Page 1 2 3 4 5 6 7 8 9 Next Page