Nvidia GeForce GTX 1070 review: The new people's champion topples Titans
Nvidia's GeForce GTX 1070 is one hell of a graphics card, delivering Titan X-level performance at a price real gamers can afford.
Don't be disappointed by the lack of GDDR5X or the high-bandwith memory found in AMD's Radeon Fury cards, though: The GTX 1070's 8GB of memory is more than enough for today's games, even at 4K resolution, and the Pascal GPU's new lossless delta color compression tricks (which again, we covered in the GTX 1080 write-up) makes it even more effective.
From the outside, the GeForce GTX 1070 Founders Edition mirrors the GTX 1080 Founders Edition, with an aggressive, polygon-inspired aluminum shroud, "GEFORCE" spelled out in illuminated green letters on the edge, a blower-style fan that exhausts hot air through the I/O plate on the rear of your system, and a low-profile backplate with a removable portion to improve airflow when you're running a multi-GPU SLI setup.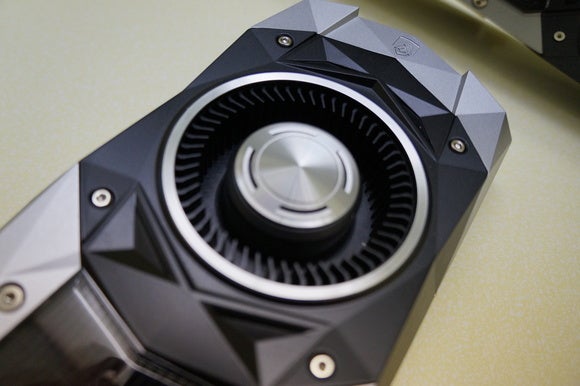 The blower-style fan on the GeForce GTX 1070 Founders Edition matches the GTX 1080's. Credit: Brad Chacos
You'll also find the same single HDMI 2.0b connection, a single dual-link DVI-D connector, and three full-sized DisplayPorts that are DP 1.2 certified, but ready for DP 1.3 and 1.4. That last tidbit means the card will be able to power 4K monitors running at 120Hz, 5K displays at 60Hz, and even 8K displays at 60Hz—though you'll need a pair of cables for that last scenario.
There are some key differences between the two graphics cards, though. Rather than using advanced vapor chamber cooling, the GTX 1070 dissipates heat using a trio of copper heatpipes embedded in an aluminum heatsink. And while the card sports the same 8-pin power connector as the GTX 1080, the GTX 1070 sips only 150W of power, rather than 180W. But the truly astonishing thing about that number is how much more performance the GTX 1070 is able to eke out of the comparatively meager power draw; the similarly performing Titan X sucks 250W through 6-pin and 8-pin connectors, while the 275W Fury X uses a pair of 8-pin connectors.
Like we said: The move to 16nm FinFET technology is a potent jump, indeed.
Nvidia GeForce GTX 1070 features
The GTX 1070 also benefits from all of the Pascal GPU's new under-the-hood and software/hardware-derived features.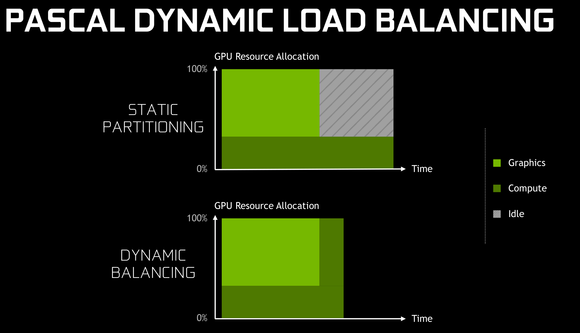 Pascal GPUs support a hardware feature dubbed dynamic load balancing that lets it utilize idle resources to complete other tasks faster. (Click for larger image).
On the more hardware-centric side of things, that includes the Simultaneous Multi-Projection technology capable of supercharging performance in games and VR, as well as rendering images on multi-monitor setups more accurately. Pascal also packs new asynchronous computing tricks to improve VR and DirectX 12 performance, though it remains to be seen how effectively it counters the dedicated asynchronous shader hardware in Radeon graphics cards. (We detailed SMP and Pascal's async abilities in depth on page two of our GTX 1080 review.)
Previous Page 1 2 3 4 5 6 7 8 9 Next Page