Nvidia GeForce GTX 1070 review: The new people's champion topples Titans
Nvidia's GeForce GTX 1070 is one hell of a graphics card, delivering Titan X-level performance at a price real gamers can afford.
Wow, what a massive performance difference leaping ahead two technological generations can make.
If Nvidia had released the GeForce GTX 1070 (starting at $380 MSRP, $450 Nvidia Founders Edition reviewed) just last week it would've been the most powerful single-GPU graphics card to ever grace the earth, edging out the awe-inspiring—and $1,000—GTX Titan X. In the wake of the launch of the "new king" GTX 1080 (starting at $600 MSRP on Newegg), however, Nvidia's new card can't lay claim to the performance crown. Still, that fact doesn't diminish this card's stunning achievement.
The GeForce GTX 1070 offers Titan-level, no-compromises graphics oomph for a mere $380. The GTX 1080 may be the new king of graphics cards, but this powerful new prince's blend of price and performance will no doubt make it the people's champion—though it's not quite the steal that the GTX 970 was.
Let's dig in!
The GeForce GTX 1070 under the hood
The GeForce GTX 1070's power stems from the same source as the GTX 1080's: Nvidia's Pascal GPU. Graphics cards from both Nvidia and AMD have been stuck on the same underlying 28nm technology for four long years, but Pascal—and forthcoming Radeon cards based on AMD's Polaris GPUs—finally break the appalling trend, leaping forward two full process generations, shrinking down to 16nm transistors and integrating 3D "FinFET" technology as well. For all the nitty-gritty details, check out the first page of our GTX 1080 review, but in a nutshell, Pascal GPUs represent a huge step forward in performance and power efficiency.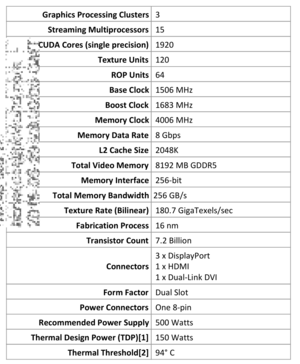 The GTX 1070 features the same "GP104" Pascal GPU as the bigger, badder brother, but with five of its 20 Streaming Multiprocessor units disabled. That leaves it with 1,920 CUDA cores and 120 texture processing units, but Nvidia left the GPU's full complement of 64 render output units (ROPs) intact. The GTX 1070's clock speeds have also been nerfed a bit, down to a 1,506MHz base clock and 1,683MHz boost clock, but that's still far superior to the previous-generation graphics cards—the GTX 980 topped out at 1,216MHz boost clocks, while AMD's Radeon R9 390X topped out at 1,050MHz.
You can see the GTX 1070's full specification breakdown in the chart above.
Another subtle, but key difference from the GTX 1080 is the GTX 1070's memory. While the GTX 1080 adopted cutting-edge GDDR5X memory clocked at a blistering 10Gbps, the GTX 1070 employs 8GB of traditional GDDR5 RAM over a 256-bit bus instead, clocked at 8Gbps for an effective memory bandwidth of 256GBps.

How the GTX 1080's delta color memory compression reduces memory bandwidth demands. (Click for larger image).