MyFox Security Camera review: This stylish camera is slim on customization options
The French home-security manufacturer's standalone camera is more attractive than most, but it handcuffs users with limited management options.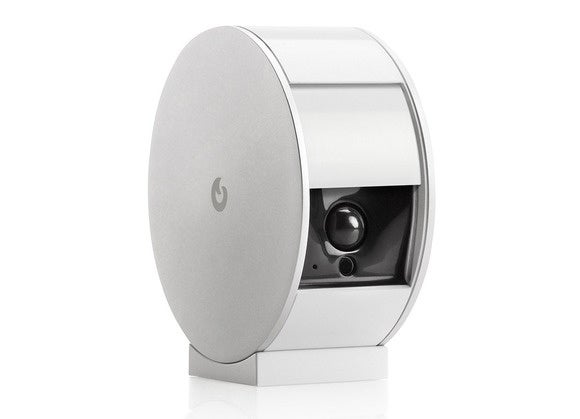 The MyFox home-security camera can operate on its own or as part of the Myfox Home Security System, a product that initially impressed but ultimately disappointed us due to the system's limitations. The company's camera is burdened by some of the same concerns, and it feels a few iterations away from holding its own with similarly priced security cameras.
What you get
The MyFox camera sits inside a cylinder about the diameter of a drink coaster, which rests on edge atop a plastic base. While you can change the vertical angle slightly by rotating the camera up and down on this base, there's no side-to-side swivel—you must reposition the entire unit to change its horizontal viewing angle.
The camera comes with a long power cord that gives plenty of leeway for positioning it away from power outlets. It also has an internal battery that will keep the camera rolling for an hour if there's a power outage. MyFox sends an alert to your phone when the power goes out, and again when it's restored. If it loses its connection to the Internet, the camera will record footage to its internal memory. If you pay for continuous recording service, it will transfer the video to MyFox's servers when the connection is re-established.
MyFox features streams in 720p with a 130-degree wide-angle lens and night vision up to 5 yards. It also boasts a two-way intercom that's activated from the MyFox app.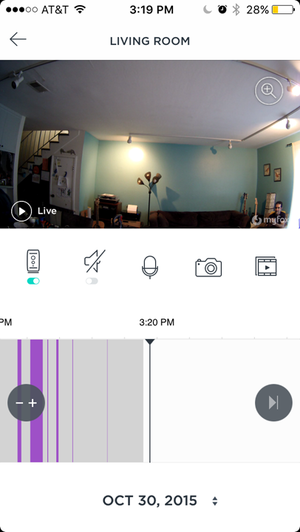 The purple bars in this scrolling timeline in the MyFox indicate security events in MyFox's live feed.
The MyFox camera's most compelling feature is a motorized shutter that's controlled from the MyFox app and covers the lens whenever the camera is turned off. It's a feature that's surprisingly assuring given the privacy vulnerabilities that have been discovered in many webcams and other home-monitoring devices.
While the camera provides a live feed out of the box, you need a subscription to one of MyFox's cloud-recording services to store video in the cloud. For $5 per month you get one day of video history; $10 per month gets you an entire week of storage. MyFox is currently offering a free two-week trial with the second option.
Given the French manufacturer's experience in home security, you get the expected level of care with your data. Video transmission between the camera and the cloud uses a 2048-bit SSL encryption key, and video streams are encrypted with 2048-bit Transport Security Layer (TLS). The same encryption level is used when connecting your smartphone to MyFox cloud. All videos are stored with AES-256 encryption.