Moshi Avanti headphones review: These cans deliver dulcet tones in a compact, lightweight package
The mobile-accessories company scores a hit as it expands into the personal audio market.
Moshi's new Avanti headphones are all about rich, intensely detailed sound—the kind you did not know was even present in the song you've listened to hundreds of times with lesser earphones, ear buds, or through your computer or TV speakers.
Moshi, a company that specializes in mobile tech accessories, has expanded its product line to bring its first on-ear headphones to the market. In terms of style, the Avanti fits right into the company's elegant minimalist aesthetic. A silver stainless-steel headband features a sleek slider adjustment to fit your head, and the attractive ear cups are available in either Caramel Beige or Burgundy Red. The cups turn in on the frame with a ratchet movement, making them more compact for storage in the included gray canvas linen-like carrying case.
The on-the-ear cups are generously cushioned and covered in faux leather.
Sound quality
Avanti's sturdy but supple cord attaches with two gold-plated connectors—one for each rectangular ear cup—before joining with your computer or mobile device via a single 3.5mm plug. A pair of 40mm neodymium drivers deliver claimed frequency response of 15Hz to 22kHz with sensitivity of 109 +/- 3dB @ 1kHz.
Overall, the sound was well balanced with extremely crisp tones and a wide dynamic range that captured depth in vocal narrative as well as musical selections. The Avanti put a fresh spin on the intense, alternating movement of layered, pulsating electronic signals that is Jean Michel Jarre's Equinoxe. Jangle pop pieces from bands such as REM sounded sweeter to my sensitive drums.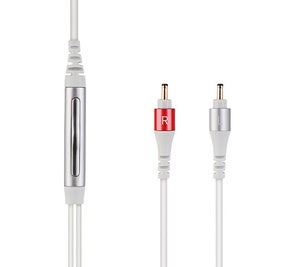 Moshi
The cable has an in-line mic and transport control, but nothing for adjusting the volume.
The highs and mids have a lovely, refined brightness making the bass, by comparison, seem a bit more modest—but to my ears—realistic and true. Like most people, I respond to a pumped bass, and certain genres like hard rock and hip hop rely on it.
That said, while the bass might be a little lightweight for hardcore metal or hip hop connoisseurs, I found the headphones punched out the bass just fine, even for selections from artists like Beyonce, Kanye West, and Snoop Dogg. Without putting too fine a point on it, the Avanti headphones do these bass-heavy genres justice without going overboard.
Spoken words sounded crisp, with sounds coming through in TV programs and movies that some people may not automatically pick up. It's a subtlety, but good programming depends on atmospheric noise. Hearing DCI Jane Tennison question a crime victim while a background TV is playing faintly in the next room through the left ear adds depth to the plot that might otherwise have gone missing.